This post was written by Danielle L. Vermeer, a social impact consultant by day, and social justice storyteller and emerging social entrepreneur by night. A long-time advocate in the anti-trafficking sector, she is learning to live more consciously one upcycled dress at a time. Connect with Danielle on Twitter at @DLVermeer or on her blog: www.daniellelvermeer.com.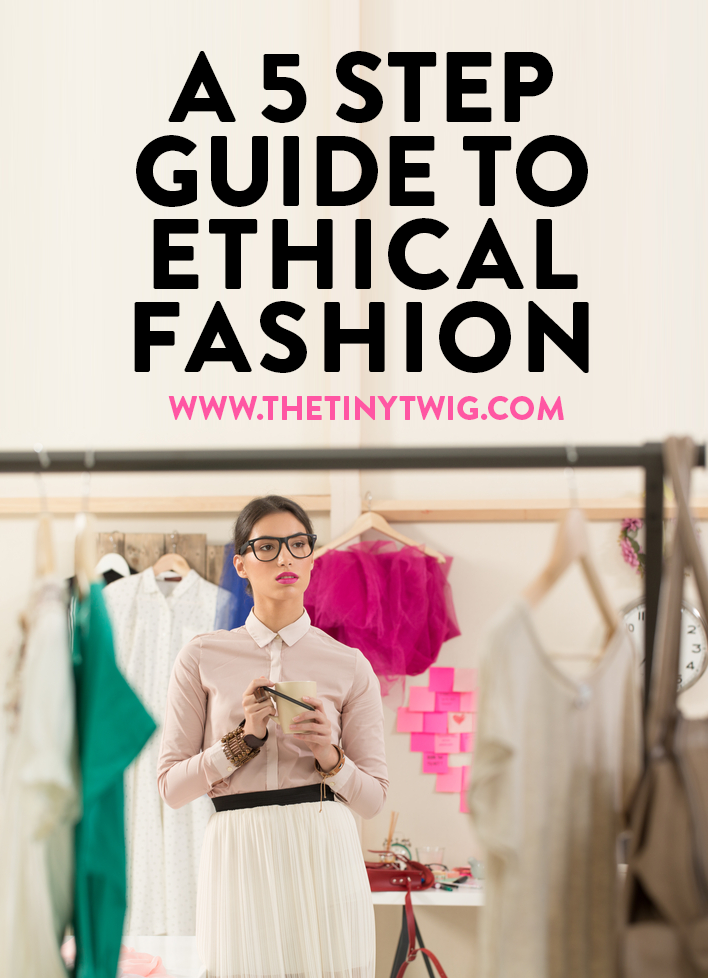 After the deadly garment factory collapse in Dhaka, Bangladesh earlier this year, consumers started asking some hard questions about how our clothing was made. They wanted to better understand the (lack of) transparency, sustainability, and ethics of the global fashion industry and how it impacted the environment and people around the world. But most consumers simply didn't know where to start, and felt overwhelmed by the opaqueness and complexity of global supply chains.
I know because I'm one of those consumers, along with 2.5 billion other "aspirational consumers" who don't want to sacrifice style or affordability for sustainability and social responsibility. For nearly two years I have been committed to buying no new clothing unless it is ethically or sustainably made. What started as a budget and closet space-conscious challenge quickly became a catalyst for rethinking my fashion shopping habits. I was moving into a new place with limited closet space and also wanted to stop wasting money on poorly-made clothes I'd only wear a few times. Since I'm an avid thrift and consignment store shopper, the "nothing new" aspect of my self-challenge has not been particularly difficult.
But a more serious motivation also inspired this challenge to not buy any new clothing unless it was ethically made. I had reached a point where I needed to decide whether I was going to put my money with where my mouth is or continue to ignore the consequences of my overconsumption. As a social impact consultant with a background in human trafficking and issues affecting women and girls, I knew that the fashion industry contributed to unfair or even exploitative labor practices around the world – from children picking cotton in the fields of Uzbekistan to young women in Bangladesh sewing the final garments in unsafe factories. Yet I felt overwhelmed by the lack of transparency in these complex, unregulated global supply chains. After all, how could I really know if those brightly-colored jeans on the department store sale rack were made by slaves and ridden with toxic dyes that polluted local waterways?
In my own journey to be a more conscious consumer, I have spent countless hours researching, conducting due diligence, and vetting fashion companies and brands. I now want to share what I've learned with you all to encourage you in your own journeys of learning about and supporting ethical fashion.
1. Research Ethical Fashion
The first step is to learn about the differences between ethical or sustainable fashion and fast or mainstream fashion. Similar to the slow food versus fast food movement, ethical fashion is about promoting sustainable sourcing and quality garment production. In contrast, the fast fashion movement is in a perpetual race to the bottom to create more garments in less time and less money. The inevitable result is a frenetic industry that depends on unsustainable resources and often exploitative production. Ethical fashion turns this model on its head and promotes quality items made with sustainable materials and by workers paid a fair wage.
There are many overlapping terms to describe ethical fashion: sustainable, eco-friendly, organic, fair trade, etc. Some helpful sites to start learning about ethical or sustainable fashion are:
2. Look into Your Favorite Fashion Brands
Companies are increasingly held accountable for the labor and environmental practices in their supply chains. For instance, the California Transparency in Supply Chains Act requires multi-million dollar businesses working in the state to disclose their efforts to eradicate slavery and human trafficking in their supply chains. That means that when you look at the website of a fashion company such as Gap, they are required to include information on social and environmentally responsibility.
There are now several tools and apps that make it easier for consumers to learn about fashion companies' supply chains.
3. Hold Your Favorite Fashion Brands Accountable
Once you've researched your favorite fashion brands using the above resources and tools, you have an opportunity to use your voice to make a change. For instance, you can check the Free2Work app for a brand before purchasing it to check whether it aligns with your values. You can then make an informed choice to support the brand or find a more ethical/sustainable alternative.
4. Support Sustainable Fashion Companies
One of the most unfortunate misconceptions about the ethical fashion industry is that it is unstylish or too expensive. The reality is that sustainable fashion is just as stylish and affordable as mainstream fashion, and oftentimes can be even more fashion-forward or inexpensive than poorly-made, unsustainable fashion. For those looking to dabble with sustainable fashion brands, check out daily deal and discount sites for conscious consumption such as:
5. Buy Less & Buy Smarter
The average American woman owns more clothing than women have ever in history before, yet typically still wears only 20% of what's in her closet. We are buying more than our closets can fit and our wallets can support. This is where buying less and buying smarter come in. The only way to make a dent in our over-consumption of fashion and its subsequent consequences is to not only buy less, but also buy smarter. To buy less, we can support recycling, repurposing, or swapping clothes using helpful sites such as those below:
But we also need to learn how to buy smarter. Rather than buy ill-fitting, poorly-made garments that are on trend for all of three weeks, we may look at clothing as investments that match our personal styles and unique body types. Sometimes this may mean paying more upfront for a higher quality garment, yet the cost-per-wear typically is lower in the long-run for those much-loved pieces that don't unravel after a few washes. Check out the marketplace-like sites below for curated lists of ethically-made clothing and accessories.
With these five simple steps, choosing ethical or sustainable fashion can be a no brainer. We can not only feel good in what we wear, but also about what we're wearing and how it was made.
From Hayley: Have you ever thought about the way clothing is made? The way prices are kept so low? Now that you KNOW that your clothes may be supporting injustice, what is the first step you are going to do about it? Don't worry about the whole big picture…but what is the first, tiny, two-minute step you're going to do to right this wrong? I'm committing to looking up Madewell's practices today. If you want, pop down into the comments with your first step!