1.  Follow their blog for a bit.  If you still like them after awhile–maybe you could be friends.  Reading someone's blog is a little like becoming acquainted with someone.  However, remember, the opposite is often not the same at this point.  Ask yourself: Do I feel kindred with this woman?  Would I have more questions to ask her about herself?  Is she interesting?  What could I bring to the friendship?  Is there a venue I could talk with her?
2.  Join the conversation.  Oftentimes, there are other ways to engage with bloggers (like Facebook or Twitter) outside of their own space.  Of course, you can leave comments–bloggers LOVE comments.  However, if you really want to get to know someone, answer their questions on Twitter.  Ask them questions of your own.  Leave a "Good Morning!" on their Facebook page.  Basically, this is your first move.  Make it casual, make it about them, make it genuine.  Blog girlfriends often come around just like real girlfriends.  Sometimes it's a compliment on a haircut, wearing the same outfit on accident, bonding over a mom story, sharing a common background.  Think about these things and try to relate and connect.
3.  Email them with encouragement.  I am most compelled to get to know women who email (or tweet!) to encourage me or to let me in on their burdens.  This is just like real friendship, don't you think?  This is the moment where the line is crossed from blog-friend to genuine, real, good friend.  You would be amazed at how fast you can become close.
4.  Offer to lighten their load.  Is she having a baby coming up?  Offer to guest post for her.  Is she launching something big?  Offer to promote it (or help get it done!).  Does she need tips about blog design, or advertising, or writing?  Can you help?  Offer!  Partner with her in helping her dreams happen–and she's likely to link arm in arm with you, too.
5.  Try to Skype or G-Chat to see them "in person".  Generally, the women I call true and real friends in this blogworld, I have talked to via Skype or G-Chat.  There is just something about seeing their mannerisms and hearing their voice and sitting in conversation that solidifies a relationship.  Brooke could tell you that our chats are often without makeup, in our pajamas, with frequent interruptions from our little people.  Jessi is sweet as good old Southern sweet tea, and talking with her made me feel like we were fast friends.  Susie and I are normally talking about goals or plans, and she is the most encouraging woman–full of grace and always open to redemption.  Sure, the first time you "meet" in person and video chat can be awkward.  It's a risk, for sure.  I feel silly and nervous every time.  Engaging and seeing their face, though, makes them stick in my mind as real people–not just perfect faces on a screen.
6.  Try to meet in real life.  Nester and I went to church together and became dear friends, then I met Ellen and Tracy through Nester (Slipcover Weekend).  I went to Relevant because Ellen and Tracy (and eventually Nester and Caroline!) were going and I wanted to spend more time with them.  Ultimately, Gussy and I ended up becoming good friends that weekend.  Maggie (Gussy) and I had been aware of each other online for a couple years, but it wasn't until we met in real life that we became friends.  I worked up the courage to ask her to meet with me to "dream big dreams" and she DID!  So, now we're buds.
Going to Relevant was huge, because I was able to meet so many people I'd worked with, written to, tweeted with, etc. only now we were meeting in real life.  Putting a real face (rather than just an avatar) to their name made them real and made them stand out to me in a sea of similar.  It became a little bit like looking for my friends in the cafeteria!  On Twitter, they are the first I look for, etc.
7.  Plan a weekend.  If you can, plan a weekend where you can be friends "in real life".  Not doing blog things like you'd do at a conference, but just hanging out.  Eating breakfast together, grabbing dinner, shopping, laughing over a silly movie.  Whatever, you just want to start making more connections offline that on.
Blogging friends can become real life friends in an instant.  It only takes a kindred connection–just like when you make a friend in person–and then a little dedication to cultivate the friendship.  I encourage you, in 2012, try to make connections in the blog world.  It's much less "go it alone" and much more "girl, can I help?" when you have other people cheering you on and feeling a real life spark.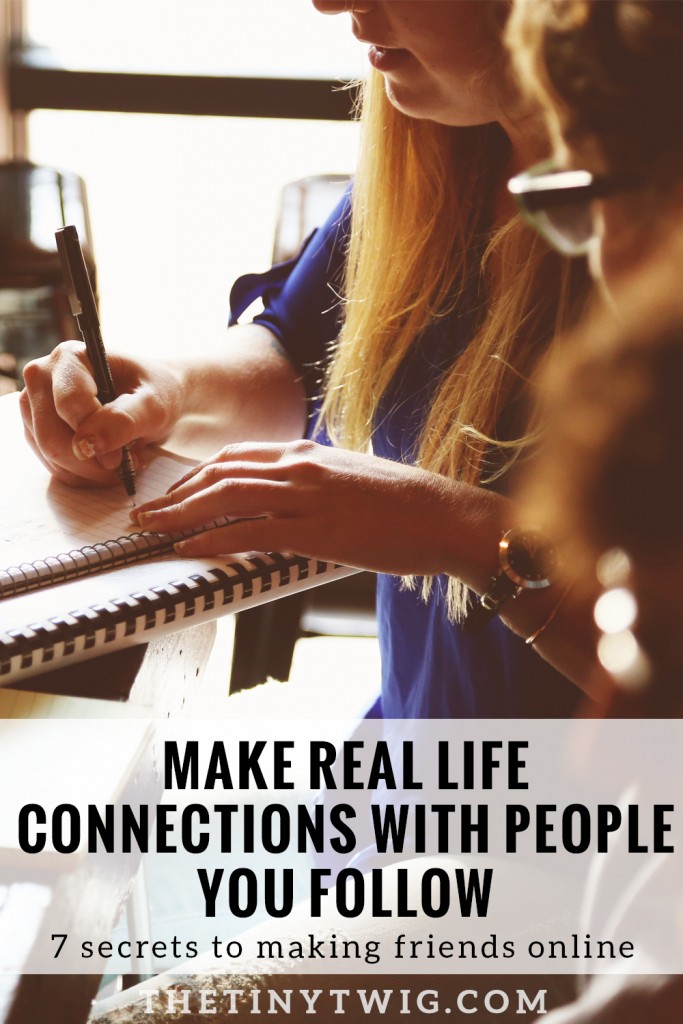 Do you have a great story of how a blog-friend became a real life friend?  Do you have any other secrets to share?  Please fill us in down in the comments!  I'd so appreciate it.