Before I get to the outfit, you should know this: The No Brainer Wardrobe is officially open for re-enrollment. It's only open for about a week longer and this time it's revamped to include not only the entire course but also a fun, easy, and private facebook group to interact with each other, possibly get rid of some old clothes, and take on our wardrobes together. To enroll now, head here.
Alrighty, now for outfit #3. Did you think I could stay away from boyfriend jeans for long? Weeelll, I couldn't. Because they are the answer to so many of my comfort problems. This outfit is a great one for a casual work setting, a mom-day out, or any day of going and running around. Here's the scoop: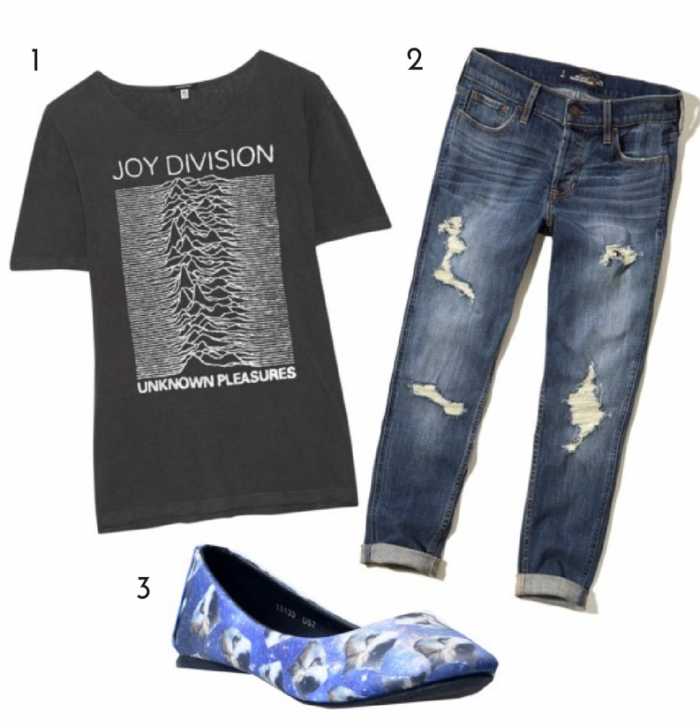 Graphic Tee

—> It HAS to be comfy to be able to serve this no brainer outfit well. It's a way to either spice up the outfit and I love a good graphic tee because it totally sets the tone for the outfit. Some of the best ones come on the cheap from a thrift store, that's always where I check first. But if you need another option, try Homage (you can get 15% off your first order using that link)! They do lots of different kinds of graphic tees and have a cool national parks collection going on now. Plus, all their stuff is made in the USA! Bonus!

Boyfriend Jeans

—> Two options, here. Distressed ones or not. I often find myself in business settings that are casual enough to wear jeans, yet I don't want to pick a pair that are really distressed even if I love them. But for nights out, I looooove the distressed look. I have a favorite pair of no rips boyfriend jeans and a favorite pair of distressed ones. Both are worn in my closet and equal amount and they are both loosey-goosey around the waist allowing me to tuck something in or leave a shirt out!

Flats

—> Shoooes! Finding a good pair a shoes that give an outfit a "pop" is tough. I can hardly ever justify it because neutrals are easier as they will go with everything. But, I still think finding just one colorful pair of shoes is a great idea. Whether it's a solid or a pattern, find one that you can a) try on or secure free return shipping b) you really, really, like and won't end up getting sick of quickly which I find that I do with colorful or patterny items in my closet. The comfiest pair of flats I own are these TOMS ones in black and I'm a big fan of the patterned classic style. Otherwise, I've been eyeing these tennis shoe style flats!