You might have heard the exciting news. But if you didn't I'll save you all the looking around and just tell you right here.
It's a big deal, I know. It is only going to be open for two weeks so make sure you get your spot, because space is limited and included is some preeeetty cool things. I'll explain…
Hayley created the No Brainer Wardrobe to help women like us have less stress when it came to getting dressed — to help moms not lose their want for style after having kids, for women everywhere to have a real, practical way to figure out their closets. So the fact the it's reopening for two weeks is something we really don't want you to miss out on. Included in the enrollment is:
The 4-module e-course that can be taken online
The No Brainer Wardrobe PDF 
Access to a private Facebook group where we (including Hayley) will talk all things closet, what's working, what's not, etc. 
Women who have gotten to participate in this course already have been seriously ecstatic about the ways it has helped them figured out their "personal style" from ground zero. Your best best on finding out updates for when the course opens is heading over to the main No Brainer Wardrobe site and signing up for updates.
And now that we have that under our belts, I also wanted to bring my second favorite No Brainer outfit to the post. You might have saw the first one (when will comdy boyfriend jeans not be the answer to all of my problems?) and here's the second —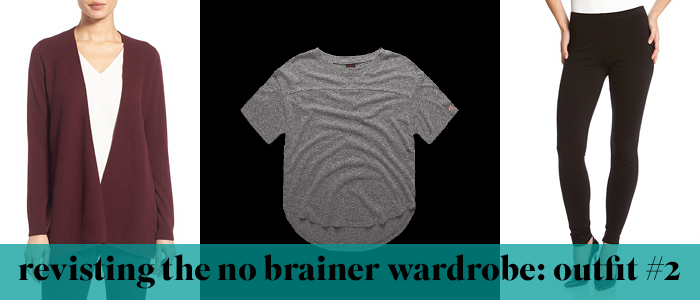 Long, comfy cardigan — I work inside most days so it's typically cold. Do not spend money on a long cardigan unless it is COMFY. It can be 0% itchy or else you likely won't feel great wearing it and hence defeat the purpose of all this no brainer wardrobe stuff :) Here's my two favorite: a) Everlane Cashmere Cardigan or Everlane Chunky Wool Cardigan b) Plum Wrapped Cardigan c) pictured
Longer t-shirt — one that covers your bottom but not longer than the sweater. It's perfect to pair with a longer, pendant style necklace that you can rock. I have these two t-shirts is one size up in two different colors that I pair with this outfit when I wear it: Homage's t-shirts (specifically the Women's Classics Football Tee) or Everlane's Cotton Drop Shoulder Tee is the way to go
Black leggings — creative, I KNOW. But really, when you are feeling anti-tight pants and need something a little more forgiving – you just can't go wrong here. Especially the days when you're bloated or not feeling great. a) dressier looking ones when you are trying to look pulled together b) sportier ones that still pair great 
I probably wear this kind of combination of an outfit more than I would love to admit. But it really really can be dressed with with the right shoes and jewelry so if you can feel great and look great then what else really matters??? ; )