Crazy fun announcement: we're having a webinar talking all about a No Brainer Wardrobe for kids on Tuesday night, August 9th – sign up here: zoom.us/j/229647949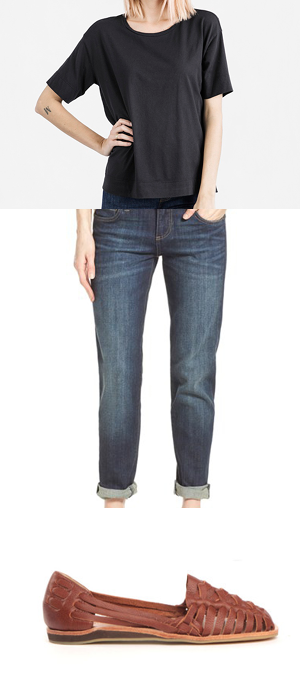 Seriously. Cannot. Believe. It. Is. Already. August. I mean, wheeeeere did the time go? I know this happens every year but here I am writing a post about starting to think about my fall wardrobe and still not believing that it is already this time. But, I digress. J We are super excited to announce that The No Brainer Wardrobe is opening up again for enrollments on September 1st. It's only going to be open for TWO WEEKS. So we thought it would be a really good idea to revisit what our No Brainer Wardrobe is looking like these days but in smaller, less overwhelming pieces. If you are new to the idea of a #nobrainerwardrobe, then you might want to read our first post about it, our most popular post, or this good overview.
So here's the first installment of a no brainer outfit that we will periodically release leading up to the big day of the course reopening – this outfit is for the fall days where it's still warm and you can still go sans socks and sans sweater.
Black or Gray Cotton Drop Shoulder Tee from Everlane
There's a solid chance that this outfit was my summer uniform and I just refused to let it die. As/if temps start to lower, I'll definitely switch out the open toed shoes for those Ecuador huarache's! Stay tuned for more No Brainer Wardrobe outfits and ask away on anything concerning the course opening!