Almost time to put away those boots and I could literally jump with joy. And while I'd love to be barefoot all the time when the temps start to creep up, reality has different plans. Spring shoes can be ranging but I usually think of anything that you typically would wear without socks. I am obviously quite partial to TOMS because 1. they are durable 2. they are a socially responsible company 3. they are cute. I do not by any means think you need all these shoes, and I don't have them all myself (I specify) but I do hope to give you a good range of options and help you. Cause there is nothing more exciting than spring (and shoes!) and sunshine, right?
Here's a grand ole' list of my favorite spring shoes:
Flats: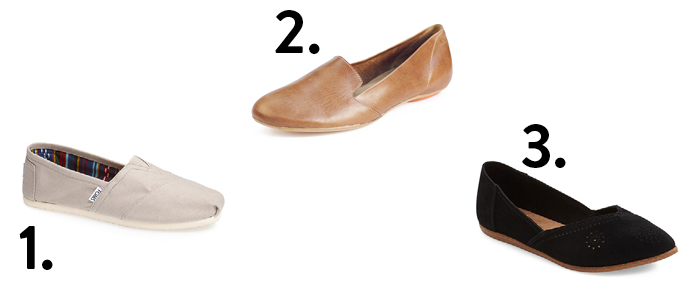 TOMS Classic Slip-On — The ultimate classic spring shoe. Since I live in the midwest, I don't get to wear any shoes that aren't socks (usually 2 pairs) and boots. So when I see 50 degrees, I grab for these first. These shoes have been around for a while now and I was hesitant to buy a pair first, but I love them. So so easy to wash! I have the gray color and there really isn't much I can't wear with them. FYI, the canvas does usually stretch for me in between washes so I order a 6 when I usually am a 6.5 and they are perfect!
Sseko Chestnut Afar Loafer — Okay, so I do not have these BUT I am saving up for them. I need a good pair of brown leather flats and I've been waiting to buy these! Super plain, I know but I love the classic look. Sseko also helps send other women to college so praise hands for them. Durability is a huge concern for me when spending about $100 on shoes, so if that is a concern for you too, read the reviews and even reach out and ask them! You'll get $15 off your first order, too!
TOMS Jutti Chambray Flat — These are my flats. Like my flats that I wear allllll of the time. I have them in black, hence why I am saving for the brown Sseko ones! When I first worse these things and they didn't leave one sign of a blister I was like YES YES YES. They are style and comfort and for that I usually don't mind paying a little extra cashola. They are also durable and washable and keep on looking pretty fresh even though they get a lot of wear.
Sandals: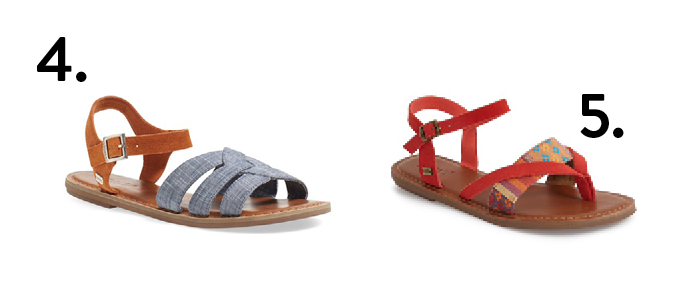 TOMS Chambray Sandal — these sandals are so on trend, right? Chambray AND that brown/chestnut leather. Also, if you look close you can see a little bit of padding on the bottoms that make them extra comfy. You might picture these with a sundress, which I'm imagining is super femine and cute. I love them with my dark jeans and they look realllllllll nice.
TOMS Lexie Sandal — Color! Finally! This coral/red color is great and perfect of summer, spring, and fall in my opinion. I do not have these because I am saving up for those Sseko flats, remember?! :) But I think are are beautiful and am guessing they are just as comfy as the chambray ones above. I love the pattern too!!
Shorterish Heels: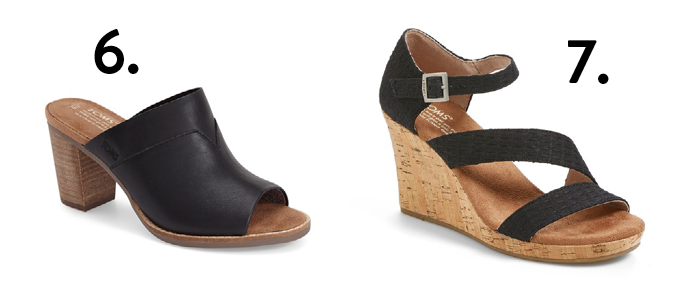 TOMS Majorca Mule – gah, ushing over these!!!! Probably my favorite on the list. Super stylish and simple at the same time. I think these are dressy enough for work or a fancier event and can easily be worn to pretty much everywhere else. Without having backs on them, it makes them blister free.Deciding between brown and black was very very difficult for me, here. I know, hard decisions. But I was really happy with my brown decision. They will be worn on my beach vacation very often!
TOMS Clarissa Wedge — ok now I do not know if you would exactly call these "short" but I don't think they would  considered "high heels" either so I decided they would fit under my made up rules. These are the epitome of summer heels to me. Summer wedding or jeans and a night out, they work. I think for that durable pair of heels, the price will work but I am also a person who goes for one brown pair and one black pair and that's it so I know that is easy for me to say.
Are you excited for spring weather yet? Ha! As if you can not be excited for spring, am I right?!  It's striking a little early over here in Cleveland, so for that I am very grateful. I'm also really grateful for you. And as usual, if you have questions or want to talk specifics just drop a comment!
P.S. Everlane clothes are my jam!! Check out this review of all my fave.