Editors note: It's not always easy to figure out things to do with your girlfriends that don't cost a bajillionty dollars. It seems like I can't get out of a brunch place without spending at LEAST $20. I'd rather have a fuss-free time with my girls and be able to hear each other rather than shouting over the table. I think this plan is a great one for investing in your girlfriend relationships.
My favorite way to bring my friends together has long been a ladies-at-home brunch. Whether you need a place to let the babies roll around safely or everyone is looking to save that $25 and long wait in line; there is always lots of food and maybe a mimosa or two.
Sweet bread is my ideal love language, and this brioche is amazing on its own, or as a base for french toast bread pudding.  All of these recipes are fairly hands off (and listed in order of difficulty!); just decide how much time you'd like to invest and start inviting your girlfriends for a big brunch date!
Food Processor Brioche: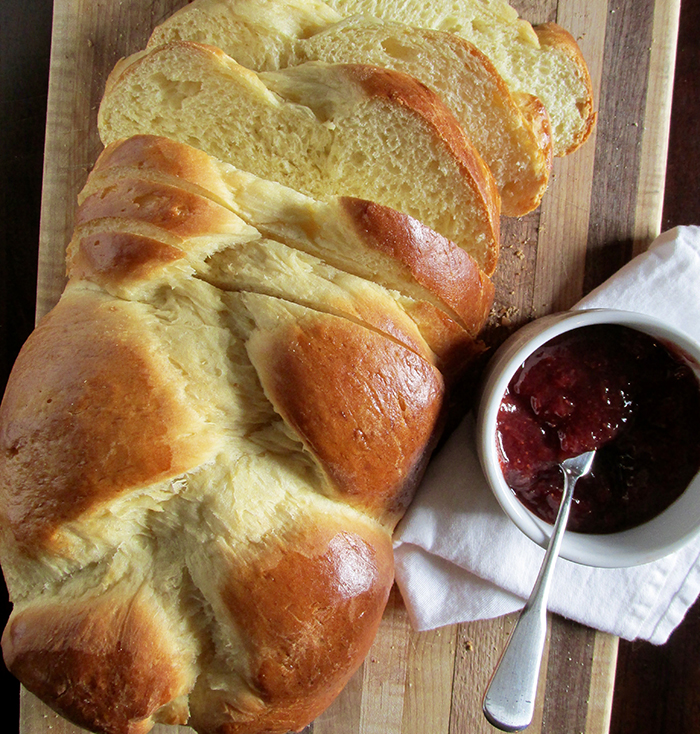 Brioche is a tender, cakey bread. All it needs is smear of butter and quality jam and your mornings are set. Plus, everyone is always impressed by a braided loaf!
1/2 cup whole milk
1 packet (2 1/4 tsp.) active dry yeast
1 cup flour
8 tbls. cold butter cut into 16 pieces (I prefer salted)1/3 cup sugar
1 tsp. salt
2 large eggs
2 large egg yolks
2 1/3 cup flour
Heat the milk in the microwave for about 30 seconds, or until lukewarm. Mix the yeast into the warm milk, allowing the yeast wake up; the more awake your yeast the quicker everything will rise. Toss a single cup of flour and yeasty milk into a bowl and mix together. Cover with plastic wrap and set aside for 20 minutes.  The dough will start to puff up a bit. Combine the butter, sugar, salt, eggs and egg yolks in a food processor fitted with the dough blade (if you don't have a dough blade, the regular blade will work here).  Pulse the ingredients about 20 times, until the butter resembles small peas.  Add the yeast mixture and pulse to combine. Add 1 cup flour to the food processor and pulse to combine. Once combined, add the rest of the flour to the food processor and pulse until the remaining flour is incorporated. Allow the dough to rest in the food processor for 10 minutes. After 10 minutes, come back and run the food processor continuously for 20 seconds. Coat your hands with flour and divide the dough into three equal pieces.  The dough should be soft, sticky, and extremely pliable. Gently pull each piece of dough until it becomes an 18 inch long strand. Place parchment paper onto a sheet pan and braid the three pieces together. Loosely cover the braid with greased plastic wrap.  Set the braid aside to rise for about 2 hours, or until it doubles in size. Heat oven to 350* and brush the braid with egg wash (1 egg thinned with a little milk). Bake for 35 minutes, until the bread is a golden brown and sounds almost hollow when you tap it.
 French Toast Bread Pudding: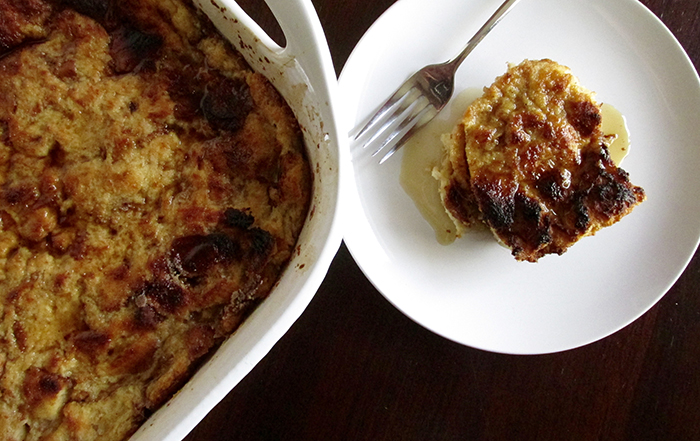 Heat the oven to 375*
1 Brioche Braid (see prior recipe)
Slice braid into 1 inch chunks and spread them out to dry out a bit.
2 1/2 cups whole milk (If, like me, you had a couple pieces of brioche as a pre-baking snack, feel free to reduce this amount to 2 cups ;))
1 cup heavy cream
1/2 cup maple syrup (not pancake syrup, the real deal here!)
1 tbls. cinnamon
1 tsp. vanilla
1 tsp. nutmeg
1/4 cup brown sugar
5 eggs
1 egg yolk
Mix everything together in a bowl, and then dump the bread cubes in and mix them all up together; let no cube go unmoistened.  Butter a 9x13inch pan, and pour the bread pudding into the dish.  Bake for 40 minutes, until when you poke the bread pudding, no liquid bubbles up to the surface.  Missing the crispy edges of french toast?  Turn the broiler on low and sprinkle about 1/4 cup brown sugar over the top of the pudding, broil for about 2 minutes, until sugar is caramelized (keep a close eye on this step!).  Serve the bread pudding with butter and maple syrup.
OR with Maple Creme Anglaise…
Maple Creme Anglaise: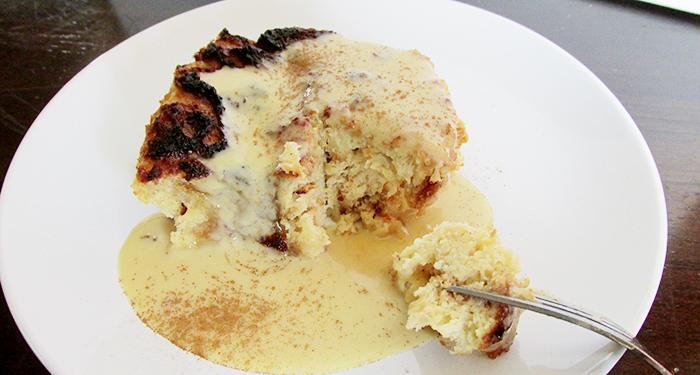 1 cup whole milk
1 cup heavy cream
1/3 cup maple syrup
Heat on the stovetop until lukewarm
6 large egg yolks
1/3 cup brown sugar
1/2 tsp. salt
1 tsp. vanilla
Whisk the egg yolks in a bowl with the sugar and salt.  Slowly pour about a quarter of the warm milk into the eggs, whisking until combined.  Slowly pour the rest of the milk into the bowl so that the eggs have time to heat up. Pour everything back into the pot, and heat over medium, while whisking the whole time.  Heat until the creme anglaise starts to thicken up.  The best way to know that you are done is to take a spoon and check for nappage. To do this, dip a spoon in to the custard, and run your finger along the back of the spoon. If the finger swipe leaves a clean trail through the custard, you should be good to go. The cook time on this is step is roughly 7 minutes.  Strain the creme anglaise through a fine mesh strainer to remove any solids left behind. To store, let the creme anglaise cool, and keep it covered and refrigerated; but I like to just dump it over bread pudding and dig in!
Cutie-Pie Brunch Gear: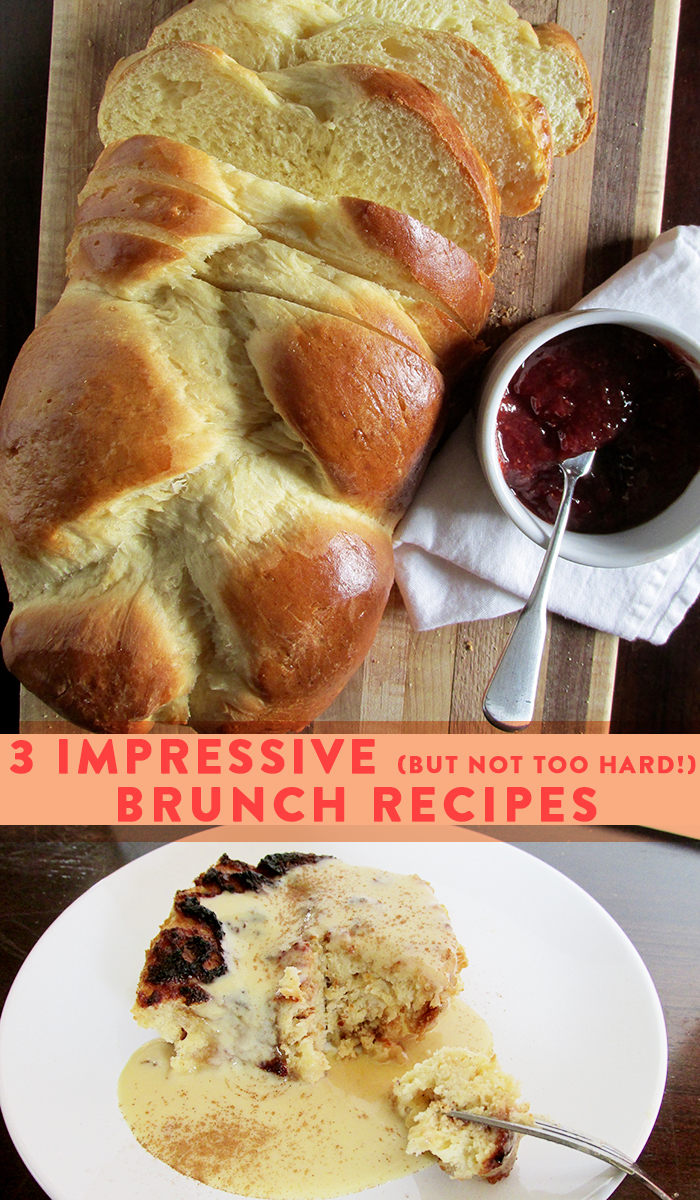 ---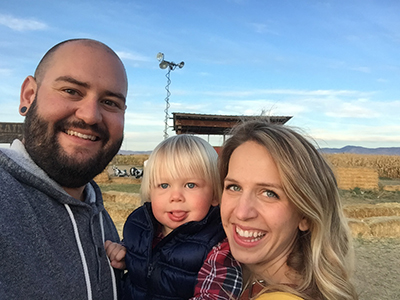 Kayla Platt lives in Idaho with her husband of 10 years and her 2 year old son.  She runs, waitresses and blogs about baking, motherhood and everything in between at www.thedreamerandtherealist.com .  You can also find her on instagram @mrskp06 or on pinterest at www.pinterest.com/mrskp06