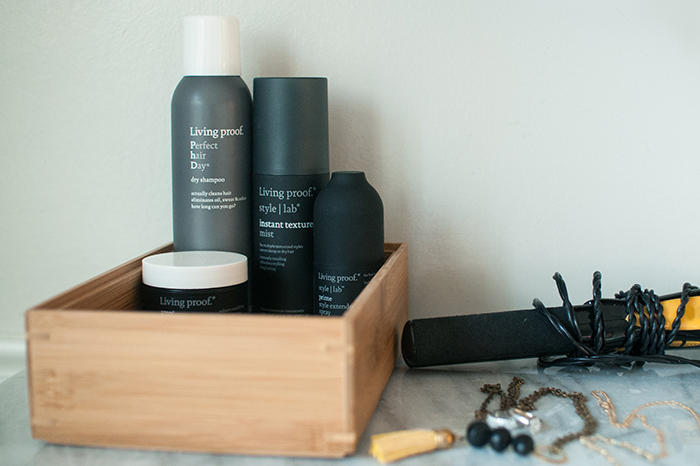 I have never been so excited to stumble upon hair products. The last time I was this thrilled was when our little neighborhood got a drugstore when I was ten. I could finally ride my bike to get Seventeen Magazine and cheap eye shadow. Babysitting money never flowed through my pockets so fast!
I've always wanted effortless, cool girl hair. The kind where it looks lived in and about zero percent fussy. The kind where the texture is just perfectly right to do just about anything. I've finally found a way.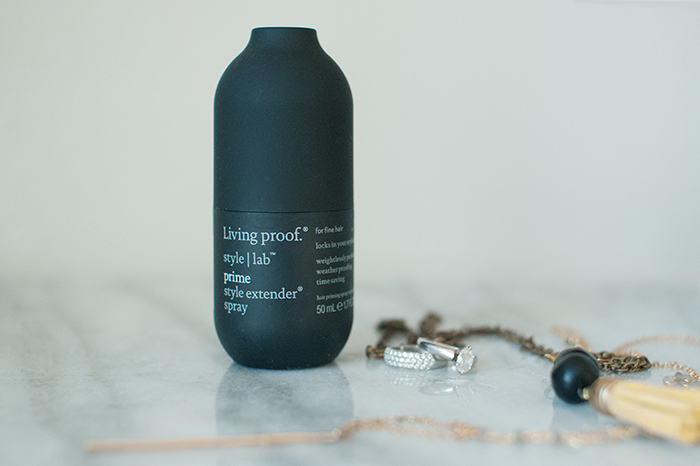 First, this Style Extender Spray is weird and wild and amazing and I'm not sure what it does other than make your hair just…better.I spray it on wet hair out of the shower and then just let it air dry. I try not to blow dry my hair, mostly because I like to get any extra texture I can from my natural slight waves.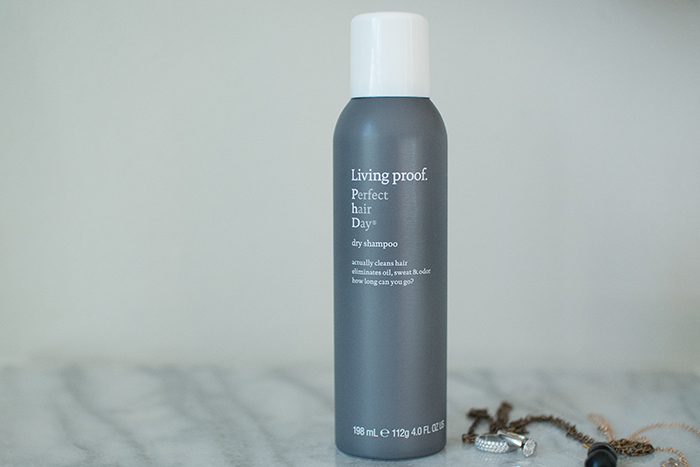 After air drying, my hair is a little "meh". I recently cut off almost all of my ombre, and it's very hard to get to hold a curl. All that unprocessed hair is lovely and shiny, but very uncooperative! So, like any self respecting girl I go to town with the dry shampoo. I've found this particularly helpful to do at night. It helps really meld into your hair that way, but you can also just go straight from spraying to styling!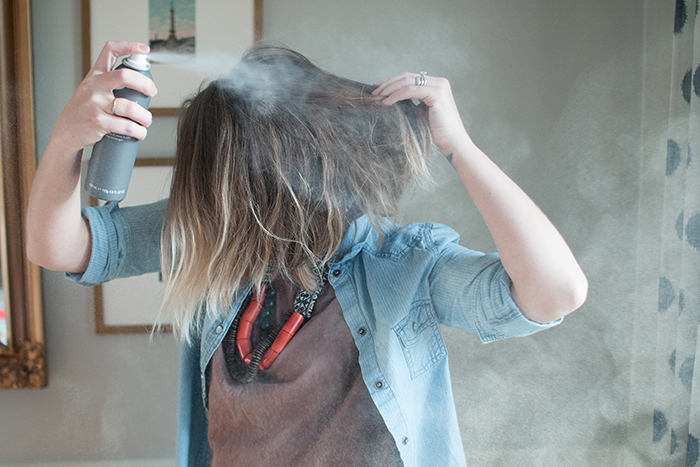 This picture cracks me up, but it's pure reality. This is Holy Grail type dry shampoo. Seriously. Go pick some up. It definitely doesn't go on clear, but it has grit and texture like no other dry shampoo I've tried.
I get that dry shampoo up and in every nook and cranny of my hair. This helps it go from limp to really holding well. Living Proof talks about their proprietary science that helps create friction (aka hold!) in strands of limp, silky hair. Science is real, y'all!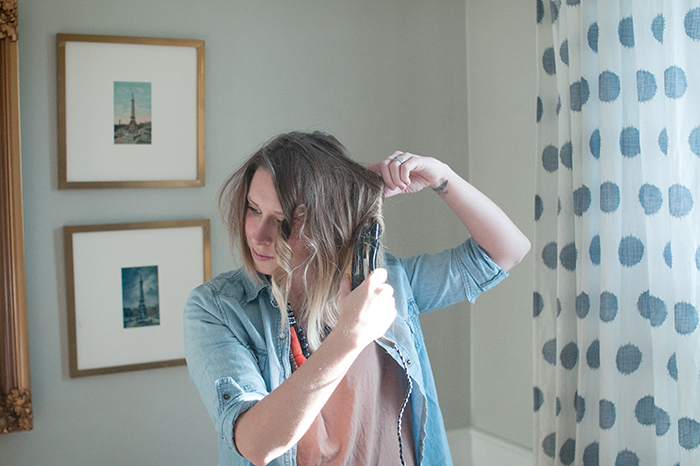 After I am done dry shampooing, I drop some easy flat iron curls into my hair. I'm currently working with a short asymmetrical lob, but this would work on just about any hairstyle. The idea is to be imperfect and quick. I spent about 4 minutes doing my whole head.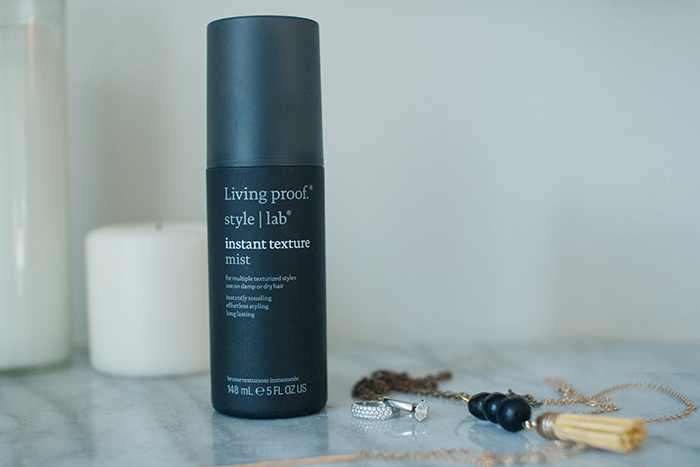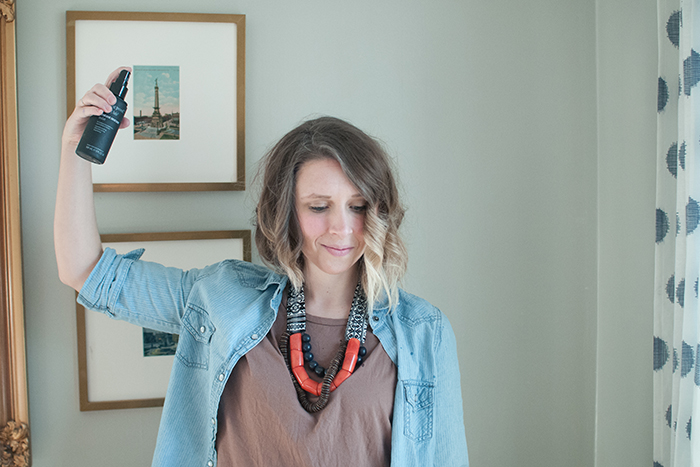 Now, this is the most amazing stuff and really what makes the whole thing. This is Living Proof's Instant Texture Mist, and it's what I use to keep everything from looking too precious. I spray it on the dry and curled hair, let it dry, and then shake my hair around.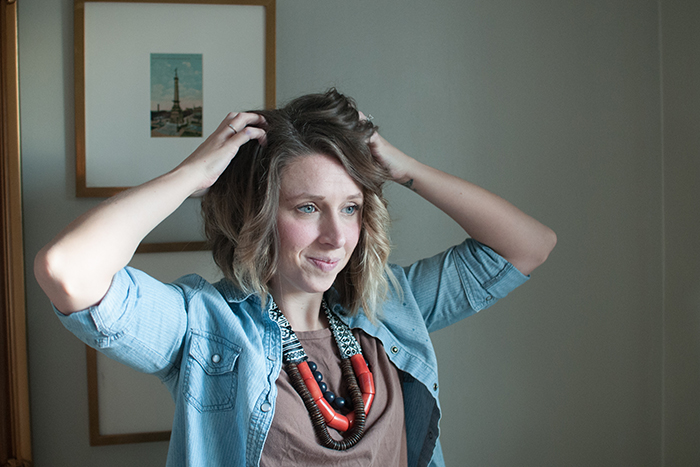 I smush my hair around some more, working the dry shampoo and the texture mist into the roots. All this shaking and smushing really just keeps it from looking like ringlet prom hair. We all know that's not the greatest look these days.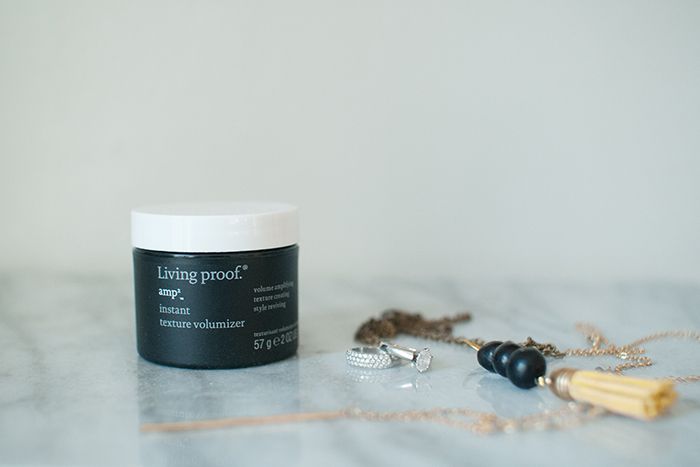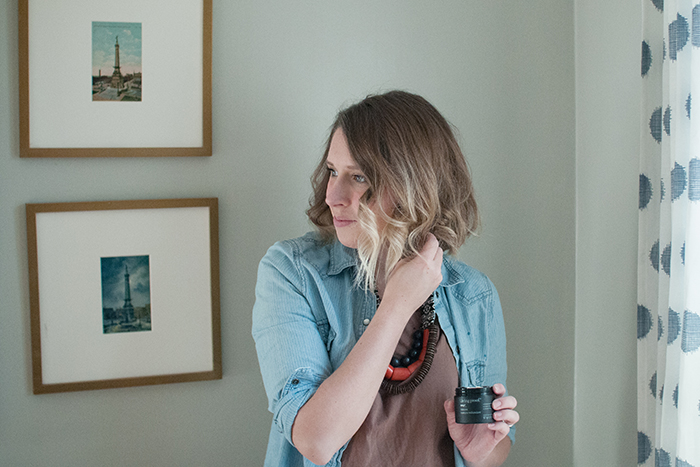 This product is kind of magic. This is called Amp, and it's supposed to be a volumizing cream. I liked to use it to create almost tiny little dreads and to accentuate some of the curls. My hair girl taught me to hold a ringlet, grab a piece from the bottom, and then push the rest of the curl up toward the scalp. If you stop about halfway up the shaft of the curl, you'll get springy definition without extra heat styling. I do this when my hair is starting to look a little flat or tired. It's also great for day 2 hair. This volumizing cream is perfect to help that move have some hold.
This is my ultimate hair plan when I'm traveling for the weekend. I like to have cool girl hair in the airport, especially cool girl hair that is revivable and can stand up to being smushed and flattened. Here's how I manage it.
Perfect Weekend Travel Hair
Day 1: Do the routine above. The whole thing takes about 8 minutes (not counting the air drying before!) Wear that for the day, pin half-up if it's getting in your way.
Day 2: Drop some new curls in with a flat iron. Mostly focus around the face. Respray lightly with texture mist and shake hair.
Day 3: Spray dry shampoo, create some new little "dreads" with Amp and then pin hair half up.
Day 4: Things will probably be starting to get uncomfortable before they look bad. I normally start to feel gross before I look worse for wear. But, if I'm traveling I try to eek out one final day. This is the day where I will massage my roots to reactivate all that product. I'll get my hair as big as possible and then I'll pin it into a tiny bun at the nape of my neck. This gives me a lot of volume at the crown of my head and looks super chic.
Final important notes: A) All of these products have sizes that are suitable for carryon airline travel! Hallelujah! B) They are free from sulfates and silicone which can be the culprits of breakouts around your hairline or cheeks. So double praise hands for that! Nobody needs breakouts when you're an adult! :)
This post was created in conjuntion with Living Proof. All opinions and experiences are, of course, my very own.