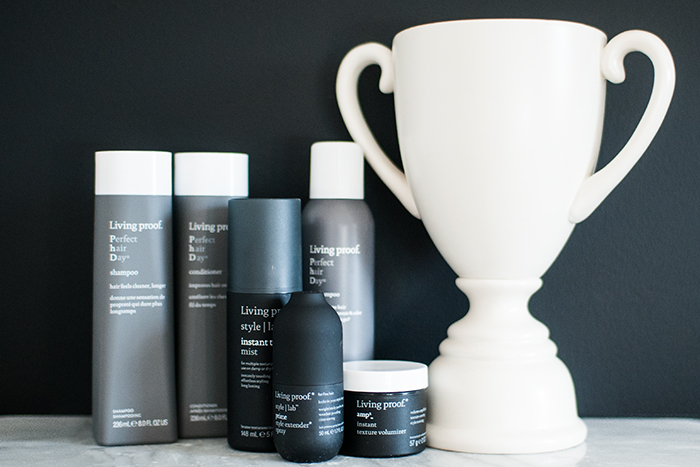 So, I'm to the point of wanting to have a great and solid hair routine down. I feel like I'm getting my life in order as an adult, but the one thing that alludes me is consistently great hair. I'm not one who loves to spend hours on my hair, I prefer an "effortlessly cool" look–but I'm not sure that hair is every ACTUALLY effortless.
If you remember my mattress post, you'll know that I love personalized products. I feel like we living in the data generation, and every company is studying our lives down to the nth degree. We may as well benefit from some of that tracking!
I was super intrigued by Living Proof, at first because of the personalized product selector. But, then I was totally drawn into the science behind these products. Plus, they just look amazing on the counter.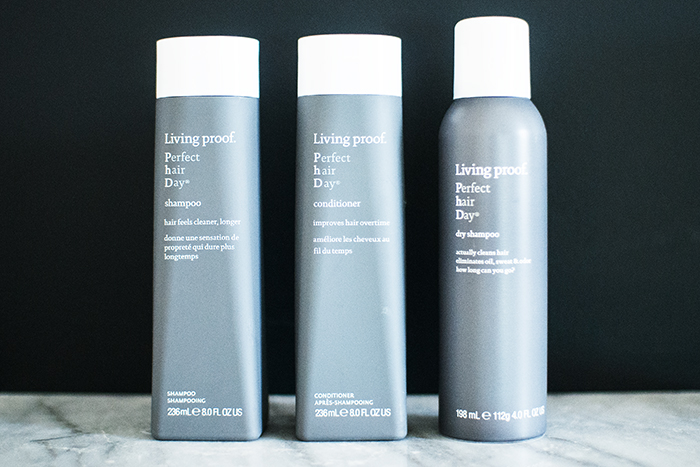 I took the test and felt like I was reading Seventeen magazine all over again. Man, I miss those quizzes, don't you? I really wanted to get styling products, because I feel like that's the part I have the most trouble with.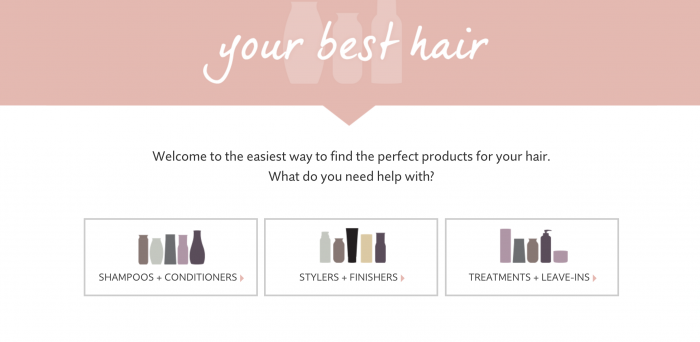 I had never used Living Proof hair products before, so I said no. Also, I'm very middle of the road about my hair. I gave it a "meh" which in pictorial form seemed to translate to a 3. ;)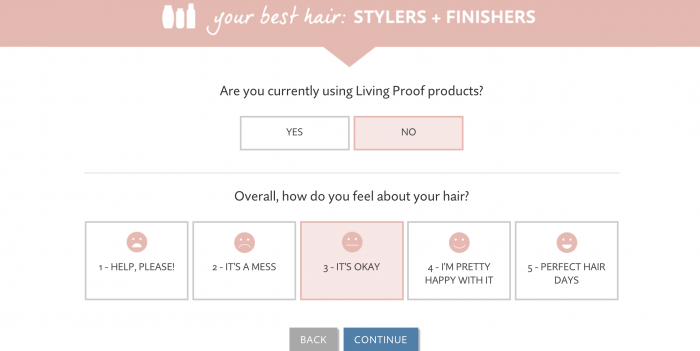 My hair is kind of wavy and the individual strands are very skinny, as denoted by that smallest dot on the bottom. Hair stylists always tell me I have a bajillion skinny hairs on my head. A very full head of thin hair.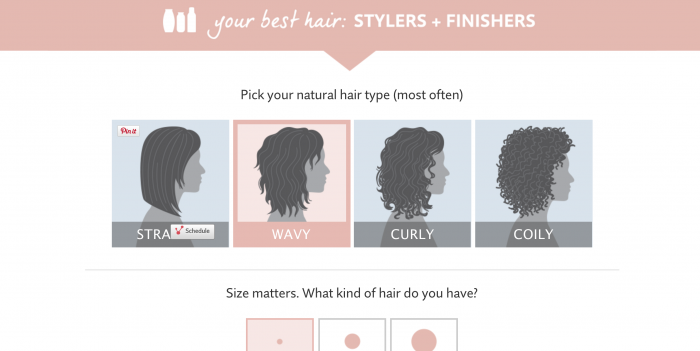 These are a bunch more questions, you can see my innermost hair secrets! I hardly even heat style my hair, and I want a lot of texture. That's pretty much it! I'm not super high-maintenance or picky.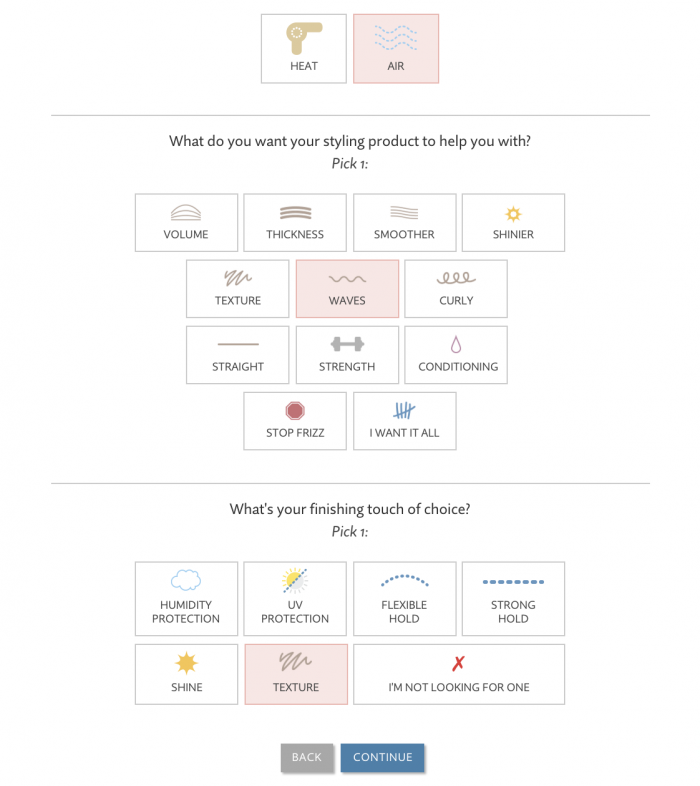 The best part is, just like the old Seventeen Magazine quizzes, it pops out a perfectly perfect answer just for me. These are products I wouldn't have picked myself, but are exactly the kind of help I need!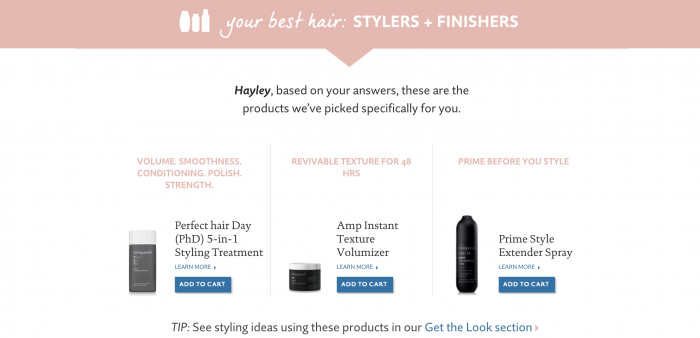 I love that they don't leave you hanging, they have a complete "Get the Look" section so you are just cluelessly spraying product. I have heard that product is everything with hair–and it seems like using the right product in the wrong way could be just as bad as the wrong product altogether.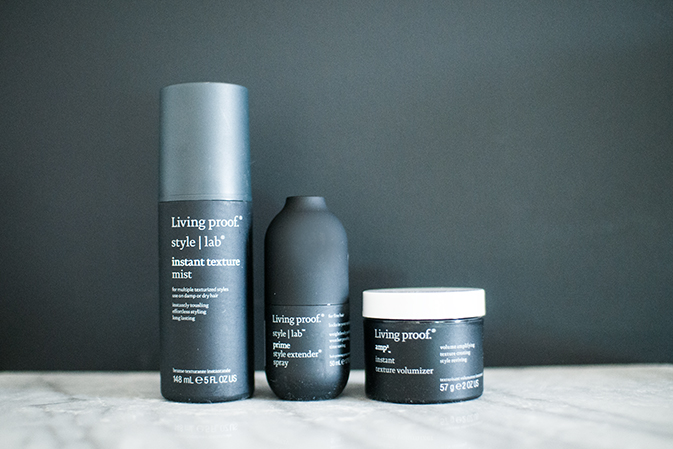 I grabbed this Instant Texture Mist, too. And it's one of my favorite things so far. I love the science behind Living Proof. Their scientists found a breakthrough technology called PBAE–this solves flat hair once and for all. Flat hair is simply from lack of friction in the hair, who knew?! The frictionless strands just lay limp on top of each other, but the old-school solutions aren't much better. In other hair products they will either open up the hair cuticle (damaging your hair) so that it will rub against the other hairs, or they will lay down a glue like substance which causes dull hair and break down fast, leaving you with flat hair once again.
Living Proof's patented PBAE deposits tiny point of friction onto your strands of hair. These produce a revivable volume that doesn't damage hair or fall flat quickly. It's pretty genius.
I'm going to keep using these products and see if I can find the perfect "effortlessly cool" look. If I do, I'll be sure to pass along the life-shifting information. ;) Listen, I know how important the effortless part of cool is!
This post was created in conjunction with Living Proof. All opinions and experiences are, of course, my very own.