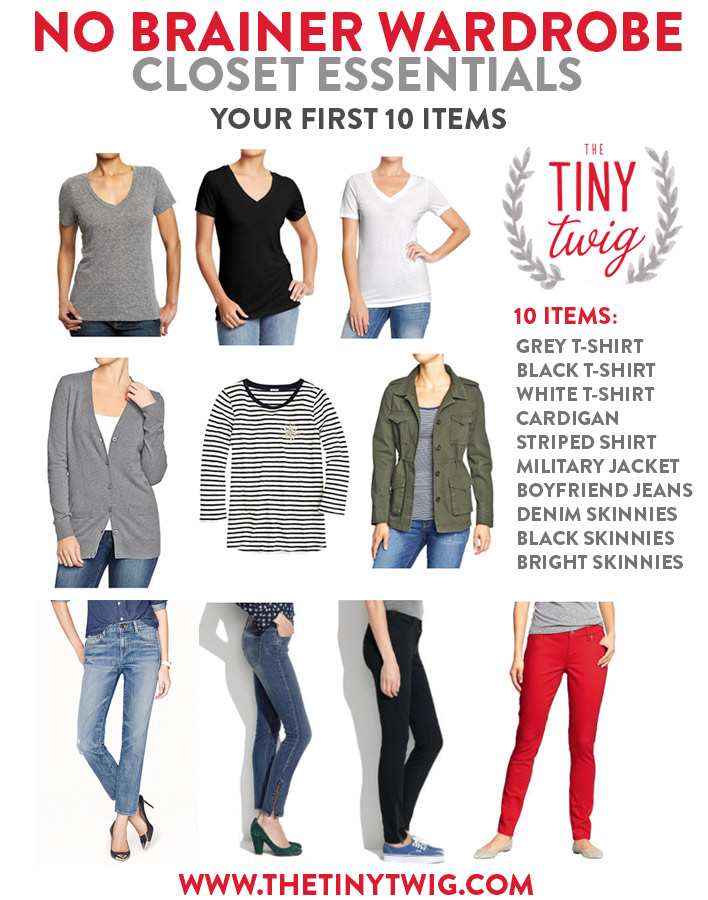 2 years ago, I wrote my first bit about The No Brainer Wardrobe. Because fashion is fast these days, I wanted to do an update and show you the pieces I would buy today. For the most part (and hooray this is true!) these essentials haven't changed a whole lot. I would buy basically the same thing today as I would have purchased 2 years ago.
If you want to see that first post, go ahead–I'll still be here when you get back!
Now, these are just the very first pieces in your wardrobe. But also? If you needed to, you could get buy with just these pieces. You might get bored, but you wouldn't be naked!
There are obviously all kind of places to get these pieces.
I LOVE Everlane for t-shirts (they are cheap, they are super well made, and they are ethically sourced). Old Navy would be my second choice for price and quality (but they do pill after awhile, depends on how casual you can get away with and how "vintagey" you like your cotton).
Madewell just got a new denim designer that I really believe in. This denim is seriously legit. It's expensive (like, I'm saving up for my second pair and then I'll own 2 pairs of Madewell jeans and one pair of Old Navy and that's IT), but it keeps its shape…so no saggy butt or knees.
Hey! Just so you know, if you end up purchasing any of these pieces J. Crew is offering 25% off with the code "GETGIFTING" and Old Navy is offering 30% or more off today only with the code "EARLYGIFT".  (AND! If you're doing any online shopping this season, make sure to read my post about social shopping! Don't leave money on the table!)
Tomorrow, we'll revisit The Staples, which have changed some because they are slightly trendier. I am really working hard to get down to a "irreducible minimum" in my wardrobe–which is a concept that is intriguing me in all areas of life lately. I can't wait to show you what I get down to. Also, because I'm trying to pare down my wardrobe, I'm going to be doing an Instagram sale soon. Follow me over there if you want to grab up some cute stuff at a super low price!