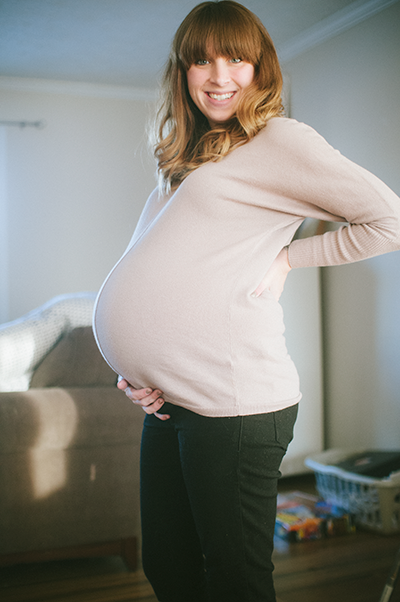 38 weeks.  photo by Noah, age 6
Noah, you sweet, sweet boy. You are the best person I could have picked to be the biggest brother to my brood of boys. You are mindful, intelligent, full of curiosity, and just the right amount of protective. I can tell you'll be the voice of reason when you boys' adventures turn a bit from good clean fun to full of mischief. You're a brave leader with a tender heart. When you imagine things, you don't imagine other worlds and characters–you imagine how things work and how they could work better. This is one of my favorite things about you, Noah. I am excited about all the dreams we'll get to dream together as you get bigger.
And Cooper. Oh, Cooper. You're the funniest, most charming boy I've ever laid eyes on. You're the spitting image of your Daddy, and therefore, have my heart through and through. I'll never get tired of your jokes, or your loooooong stories, or how you tell me how beautiful I look. You know how to make people feel loved, and I'm thankful for that. I was worried about having a middle child in a family of boys, wondering if he'd get lost in the crowd and noise. But, I shouldn't have been worried…because Cooper, no one could lose track of you. You are the bright spot in my morning, and a sweet spot in my evening. So thankful for who God is shaping you to be, little man.
I cannot forget you, Mr. Asher. You, who gave us quite a scare about a year and a half ago. You arrived early and quickly and needing more help and attention and prayer than I knew possible. But, for every scare you put me through in those first 3 weeks–you've been an absolute ease and joy since. You have a quiet spirit, by far the most shy of our boys so far. But, with your brothers you play like a big boy and don't know you're the littlest. I am so thankful that you're willing to get into the chaos that is the Morgan boys'–it's really precious to witness. Asher, I can't wait to see how you and our sweet last little boy bond. I'm praying you'll be the very best of friends.
Tomorrow morning (today when you read this), I'll be checking into the hospital to be induced with baby boy #4. If you've been following along with our story, you know that I went into preterm labor at 33 weeks and was on bedrest until 36 weeks. Well, sweet boy has held on for far longer than we anticipated–and I'm now more pregnant than I've ever been. :) After 6 weeks of at least twice weekly (sometimes 4x weekly) doctors appointments, we're thankful to start growing into a new and more settled home routine again. 
You'll hear it here first when sweet baby makes his appearance. We absolutely cannot wait. So thankful.