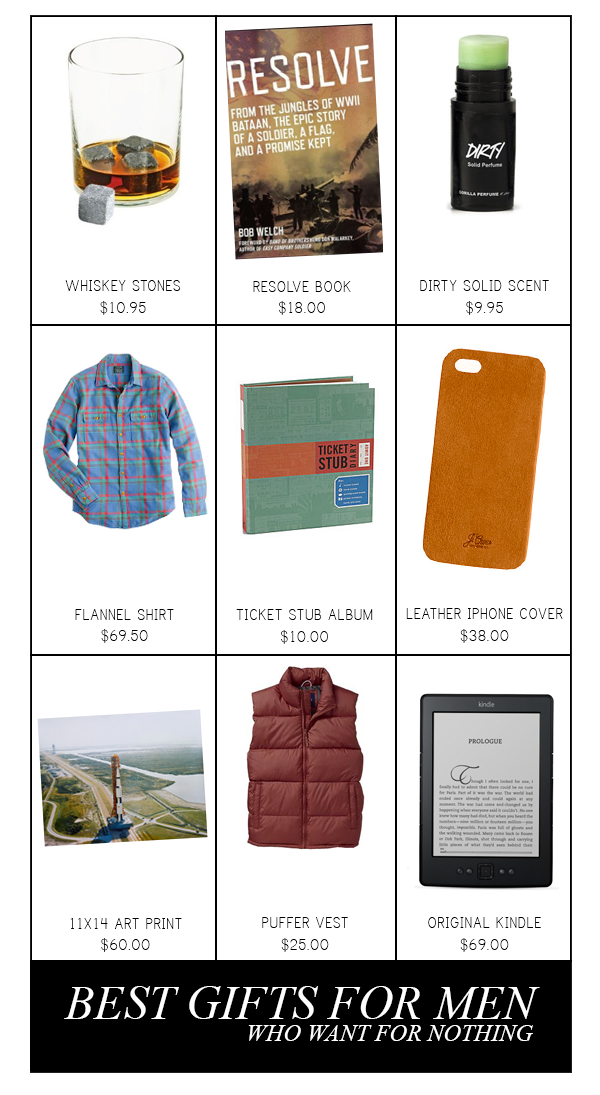 whiskey stones, resolve book, dirty solid scent, flannel shirt, ticket stub album, iPhone cover, art print, puffer vest, kindle
Why these gifts made the list:
whiskey stones: Whiskey and a bonfire is my husband's favorite late fall/early winter wind down activity.  We have a yard full of massive, mature trees and those blustery winter storms bring down a lot of big limbs.  He likes to multitask after the boys go to bed by burning the brush pile and sipping a bit of whiskey.  He'd love these little whiskey rocks to add to his evening.
resolve: I'm going to write more on this book in January, but it's a story made for the movies.  The best part?  It's true!  And, one of our best friend's grandfather is the main character.  If your man liked Unbroken, he'll probably like this crazy tale, too.
dirty solid scent: 100% honesty?  I steal this scent from my husband.  It's a mutual favorite and worth every bit of the $10.  Get it, steal it from him, you won't regret it.
flannel shirt: Flannel. Nothing cozier.
ticket stub diary: I find ticket stubs all over the house. I never know whether they are safe to toss or if they should be kept. Husband gets to go to a lot of fun events and this would be absolutely perfect to keep track of all those memories.
iPhone cover: In this day and age (and with those crazy fragile/crazy beautiful iPhones), you need a phone cover. It may as well be manly and rugged. I imagine this one would get more beautiful with age–like a watchband or wallet.
art print: I love the Space Program. Everything about the era of rockets carrying men to space is so incredibly chic and brave. I think I'll get this piece for our family room. I try to keep the art in our main living spaces manly, so it will fit right in.
puffer vest: Perfect layer for running out to the store when you don't want a bulky parka.
kindle: A new classic. And the price has come down so much it's totally affordable!