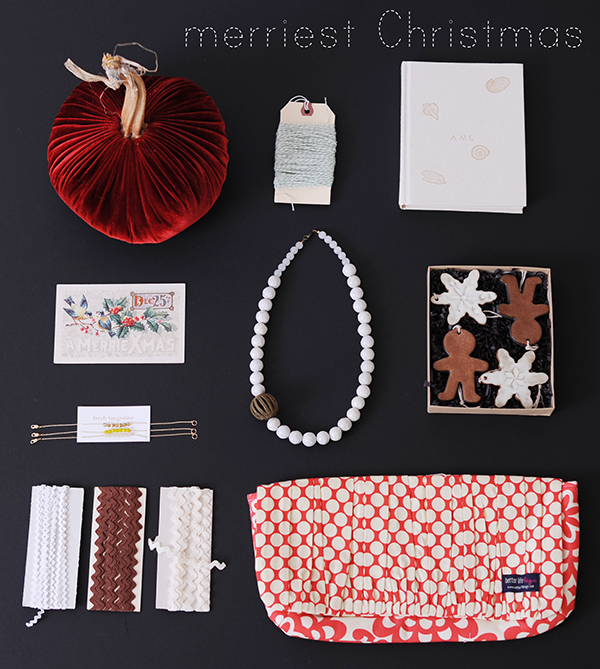 I'm going to start sharing some of my very favorite things with you via an amazing giveaway!  It's my hope to offer these every month.  :)  This month, I've gathered up some of my favorite shop owners and curated a cute Christmas themed gift.  This will arrive in time for Christmas, so you could break it up as gifts for others or keep it all to yourself!  If I were to win (which I can't!), I'd have a hard time deciding what to do!
This giveaway (from 11/30-12/14) is worth more than $200, with these great items included:
A velvet plush pumpkin from Love Feast Shop.  Y'all this is the most amazingly rich, beautiful, unique little decoration around.  It could serve your home from Thanksgiving to Valentine's Day!
100 feet of green baker's twine from Think Garnish.  This would be perfect for wrapping up your Christmas gifts.  It would look so sweet with kraft or striped wrapping paper and a cute little tag.  Simple and lovely.
A vintage copy of Gift from the Sea.  It's my favorite book and I love to start the new year reading it.  I thought I'd give you some extra time to add it to your reading list for January.
4 Stoneware Christmas Ornaments from NS Pottery.  I have 4 little gingerbread men from Natalie and used gold paint to write each of our boys' names.  I am in love with these keepsake ornaments and know they'll find a sweet home on your tree, too.
The Alicia Clutch from Better Life Bags is the holiday bag with a heart.  I love that Rebecca employs women who wouldn't otherwise have a job–and each purchase from her shop allows her to expand her ability to hire.
Vintage Ric Rac from my holiday stash.
3 beautiful gold layering bracelets from Fresh Tangerine.  The gold, citron, and ivory bracelets are beautiful alone or together.
 Vintage Christmas Postcard from my holiday stash.  Would look so festive and darling framed!
A necklace from The Tiny Shop.