A couple quick housekeeping announcements here on Tiny Twig! :) Thanks for being patient and bearing with me.

1. Have you signed up to get The Influence Network's email? The Influence Network will be launching January 1st and exists to help make your online life matter. It's a network with forums, online classes, a digital magazine, instant free downloads, and tons more. It's kind of like the online extension of The Influence Conference, totally about the Lord and totally about helping you leverage your online presence.
If you haven't signed up for the newsletter for that, head over to The Influence Network's site and do so! You'll get all of the first news about how to sign up, what we're offering, deals, etc.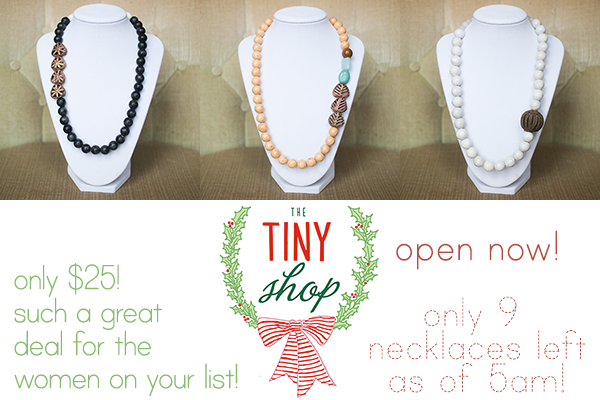 2. The Tiny Shop launched this weekend, and the inventory is already super low. If you want to grab up a necklace for yourself (or someone on your gift list!!), do so quickly! This season, the looks are super neutral so you can layer the necklaces with others if you'd like.

3. Friday, November 30th, I'll be presenting you with a new monthly bit of fun at Tiny Twig. I'll be having a HUGE giveaway of some of my favorite things each month–and one recipient will get it all. I can't wait to show you all I have up my sleeve!! You won't want to miss the giveaway, and you'll definitely want to tell your girlfriends about it!
4. I really like you guys and I'm super thankful for you!  Because of that, if you purchase The No Brainer Blog today–I'll email you a free copy of The No Brainer Wardrobe!  No need to do anything other than buy The No Brainer Blog through the eBook website–you'll receive your free copy of The No Brainer Wardrobe in your inbox within 48 hours.  So, that's 2 books for $7.99!  If you've already read The No Brainer Wardrobe, send your free copy along to a friend as a gift.