In this modern day, there really is no way to have a stress-less holiday season. Between school holiday parties, traveling, gift buying, meal planning, and even decorating–it can all become…a lot.
Even so, I completely reject the idea that the holidays should be stressful. There is a large area of wonderful between stress-less and stressful–and that's where our family aims to land. The less fuss Christmas.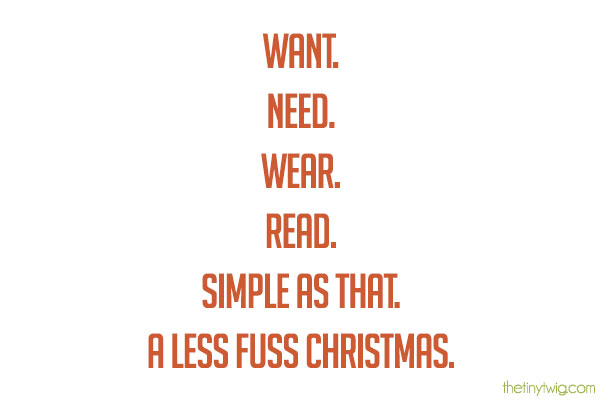 Here are a few things I do to keep things "less fuss":
1. I decorate for our family's enjoyment…not for our seasonal guests. If I'm stressing, I'm not enjoying…so I don't do it if it's stressful. And, let it be known, the things that are stressful vary from year to year. For the past two year, outdoor lights have been beyond our capability–and we all lived and have great memories of Christmas. I say ditch the decorating that stresses you out.
2. I do 100% of my holiday shopping online. 100%. I only set foot in the mall if I want to "enjoy the spirit"…not to mark things off my gift list.
3. Our kids get 4 gifts each. Something the want, something they need, something to wear, and something to read. I'm not saying that doesn't sometimes bum my oldest son out–he is highly attuned to the marketing of Christmas–but it is best for our family. They receive gifts from family and friends–and our own tree doesn't need to be bursting to contain the gifts we give on Christmas morning.
4. We try to keep the meaning of the season as the main thing. We anxiously await the celebration of when Jesus came as a vulnerable new baby…and that colors our hopes for the whole season. It's been a hope of mine for years to eventually have a pregnancy that was in it's waning days through Christmas–and I've actually received my wish! It's fun to approach the Advent season with the anticipation of our own baby's birth…it helps me in a small personal way "put skin on" the wait and the joy and the aching.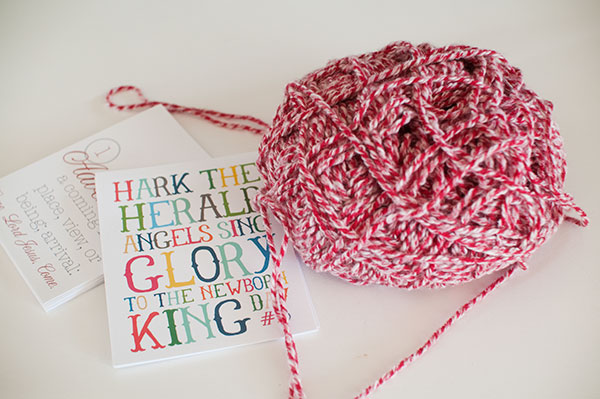 Our Advent calendar comes from Naptime Diaries this year.
It is my hope that as our boys get older we'll figure out a way to tangibly serve others as our primary celebration through the holiday season. We're not there yet, and I'm not sure what it will look like when we do get to that point. Any ideas? What does your family do to keep things "less fuss"? Do you just simplify or do you find a way to make others the focus?
also, a note: the annual Tiny Shop will be opening on Black Friday and will remain open until the stock sells out. this year's inventory is very limited!
and for the latest stop on The No Brainer Blog eBook tour, head over to Shop Lemon Drop  and Dear Abby Leigh for a No Brainer Blog/Dress for the Day collaboration!