A few weeks ago, I had the opportunity to ask Lysa Terkeurst about her new book, Unglued. I have been a longtime fan of Lysa, first introduced to her work when we lived in Charlotte. The Bathtub is Full but I Feel Drained was the first "Christian mothering" (is that a genre?!) book I read, and I was enamored by the stories she told about adopting her sons. This newest book is a great read, and I read it with The No Brainer Blog in mind. I feel a huge burden not to put junk out on the Internet. It is a privilege to have this space and to use this voice, and I would hate to muck it up because I wasn't being wise with my emotions.  I was excited to learn from the wisdom Lysa has collected over the years of being in the public space.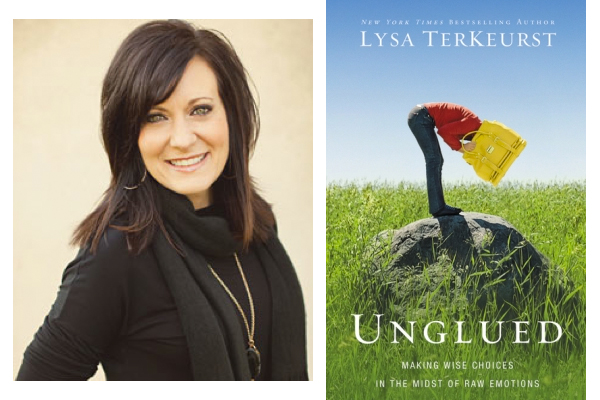 So, without further ado, my questions for Lysa. Be sure to check out her book if you want to know more!
1. In chapter 9, The Empty Woman, you speak about discouragement you experienced at a writers' conference. Your friend has received a lot of positive feedback, while you got none. How did you walk through the disappointment between that day and the day when you had the clarity of hindsight to realize God protected your words from being public prematurely?
I had to learn to focus on my own responsibilities and actions and not look at what those around me were gaining or going through. That means finding reasons to celebrate what we have already been given and what we are doing right. I had to bury myself in God's Word.

When I start to have those jealous feelings again, I have found that it is important for me to actively pursue good for others.

Ultimately, dealing with disappointment comes down to having a jealous spirit or a giving spirit. Thankfully, through Scripture, I have learned that having a giving spirit not only protects myself and those around from the ramifications jealousy causes, but it helps prepare my heart for all God has in store for me.
2. Being a woman with a public ministry, what are warning signs you see in women who are dangerously close to empty? Are there things you look for in your own attitude/heart that challenge you to fill up before it's too late?
In Unglued I talk about how the absence of rest leads to an abundance of stress. When I see myself start to lose my temper often or get aggravated at my family over small things, I know I need to take some time for soul rest.
3. Do you have practical ways to make sure you remain "full" rather than empty?
I have learned the importance of making Scripture the first thing I soak up every morning. I have found that sometimes it isn't practical to spend hours and hours in God's word (especially in the mornings) but, that little bit of time and focus before I meet any of the day's challenges really helps my perspective for that day. I must exchange whispers with God before exchanging shouts with the world.
Do you have ways you make sure to remain full?  How do you know when you're "coming unglued"?