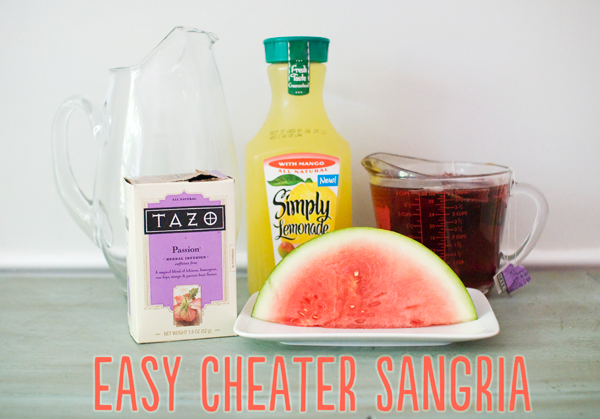 Sangria is a summer staple, famous at BBQs, lakehouses, and get-togethers all season long.  Sangria traditionally is wine+fruit/fruit juice.  However, I am not huge on alcohol (my small self has a LOW tolerance), plus, it can get pricey if you are feeding a backyard full (although, cheap wine is certainly available!).
Instead, I like to mix up this drink that maintains the heart of sangria, but cuts the alcohol.  You can always go halfsies and add wine to the tea, if you want your sangria to pack a punch.
Ingredients:
*Tazo Passion Tea–this tea has a pungent and fruity taste that will stand up in your punch
*Simply Lemonade–I like to use the Mango blend for an extra flavor
*Leftover Fruit–blended and filtered through a sieve, leave some citrus or tree fruit cut in small pieces
*Wine, if desired
Instructions:
1.  Brew approximately 4 cups of tea.  Steep extra long for added strength.
2.  Fill pitcher with ice, pour equal parts tea and lemonade (and wine, if you please) into pitcher.
3.  Blend any desired fruit, filter through sieve.  Pour juice into pitcher.
4.  Mix thoroughly.  Add any cut fruit, if desired.
Best for:
Family get-togethers, brunches, church pitch-ins, kids baseball games, sipping at the pool.  All summer long.