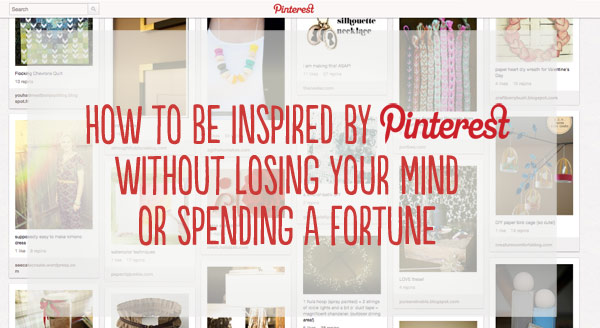 The desire for people to create and "craft" has been around long before the days of blogging and Pinterest and the advent of DIY project tutorials. But with the advancement of visual resources such as blogs and now Pinterest, many women especially, are feeling the need to create everything from scratch, and to make it beautiful, make it "pin" worthy. It's a lot of pressure that can be overwhelming and make a person want to just throw in the towel. I recently read a blog post floating all around the blogosphere basically saying that your kids need you, not Pinterest perfect celebrations and crafts. And while I wholeheartedly believe that, I also believe that you can still extract joy and fulfillment from creating, and be an example of creativity to your children, while not getting overwhelmed. Here's a few tips and tricks that have worked for me.
To start at the top, my overall mantra for browsing Pinterest (and some blogs) is Get In, Get Out. What does this mean? Well I browse primarily when I am looking for inspiration for a specific idea, like my daughter's mermaid themed birthday party, and that's it. Spend just a few minutes searching the boards and pin 2-3 ideas, and then RUN! I try to limit my 'browsing just for the heck of it time' quite strictly. If I don't, I'll soon get lost in an obscene number of open tabs and I'll start to feel overwhelmed and inadequate. The voices creep in and suddenly I'm thinking "I should be doing this, why can't I create something so beautiful, why didn't I think of that, ooh the kids would love that homemade teepee made out of recycled tarps and organic food based non-toxic paint that I whip up myself." Browsing for inspiration should leave you feeling just that, inspired, not down.
Next, if you want to take up a DIY project, hone in on our specific skill set, and be realistic with yourself. In other words, if you're not the most patient person, then taking on one of my seed bead jewelry projects that take hours to complete probably is not the best thing for you. Perhaps you're a great painter, or a skilled graphic designer, therefore creating a themed party on paper or restoring an old dresser is the perfect project for you. I personally love making jewelry, so I've focused on that area for me, and I primarily invest money in jewelry making supplies. Which brings me to my next subject, spending money on supplies.
Invest Wisely. Unless you're buying supplies that you will use continuously in the future, don't spend more on your supplies than the actual project is worth or would cost you to purchase. This is a tricky one, especially for some sewing projects and even jewelry making projects. Places like Forever 21 and Target sell clothes and necklaces for as low as $2 a piece. It's hard to compete with that. But if the quality of the product is better than said items at cheap discount stores, than it's a wash. In addition, choose your projects thoughtfully and carefully, and beware of becoming a renegade hobbyist by investing in supplies all over the board for projects varying from sewing to scrap booking to planter gardening off of an apartment balcony. You simply can't do it all and if you try, you'll most likely end up frustrated and wasting money. Choose a couple of hobbies that you enjoy and are good at and stick with investing larger chunks of money in those areas.
Every now and then though a craft supply will strike my fancy so much that I just have to have it! The last time this happened was when I saw the line of Neon Glitter by Martha Stewart. $20 for glitter is not cheap, so in order to justify my purchase, I used my rule that I always use when purchasing clothes, and that is if I can think of at least 3 ways to use it, then it is worth the money. It's no fun building up a closet full of craft supplies that you'll never use again, it's depressing in fact, so stick to buying only the things you love and know you can use again and again. By the way, since purchasing that awesome glitter I've used it to make notecards, decorate paper mache Easter eggs, as an accent for a manicure, and for my daughter's mermaid themed birthday party. Money well spent.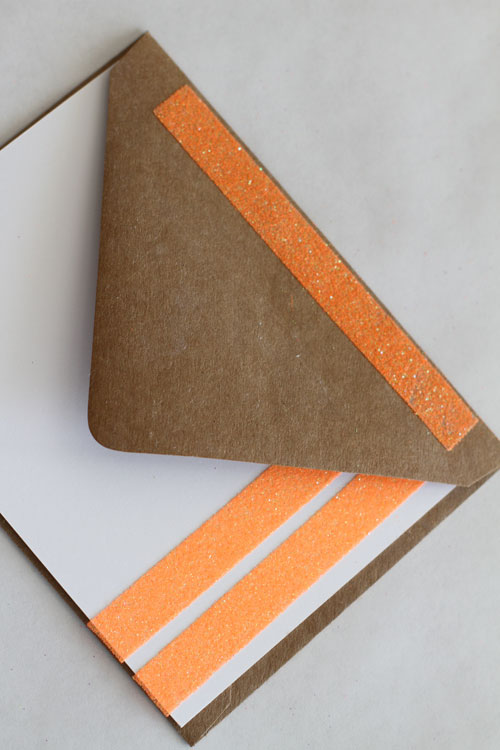 Crafting can be relaxing when done in peace and quiet (in other words, no kids involved), but there's a lot of valuable experience that can be taught and gained when you get your kids involved in your passion. When on the hunt for jewelry supplies, I always keep an eye out for beads and baubles my kids will enjoy and be able to work with as well. Large wooden and colorful beads that have large holes to string are perfect for kids and I often sit them down beside me while I'm creating, and set them up with a project of their own. Working with their hands fosters creativity, imagination, patience, focus and fine motor skills. Of course it's more work, so if you're in a hurry, avoid this process, but crafting is overall supposed to be fun, so allow your kids to share in on the fun. An added bonus of course is that it keeps them occupied while you're creating.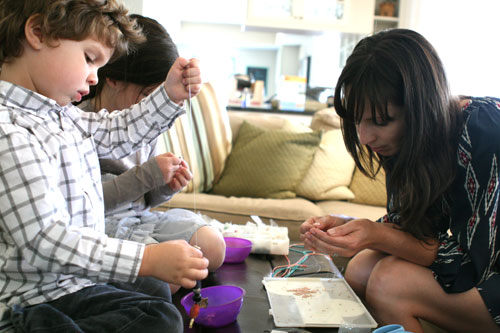 And if you don't have kids, involve your friends. While craft nights with girlfriends are usually not the most "productive", it's usually a lot more fun. Plus it's a great way to either split the cost of supplies, or burn through supplies that you have in abundance that you know you'll never get through.
These are the main pearls of wisdom I can share with you all, and while I know many of them are pretty much common sense, it's nice to sometimes get a little reminder. I hope they help a bit. And P.S., these tips are ones I've gained only after making several mistakes of my own, like spending about $200 on card making supplies once only to never use them again. I'm hoping to save you the same headache and frustration ;)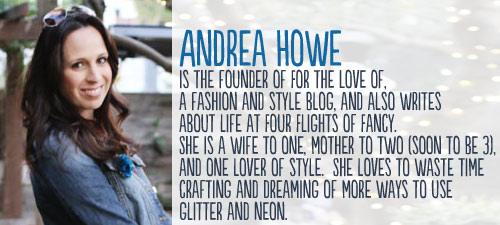 Contributor Links: For The Love Of :: Four Flights of Fancy :: @fourflights