We made a decision when our first son was born, that his first Christmas present would be a tote bag from ll bean (large, zip-top, regular handles). We lived in Charlotte at the time and traveled home to Indiana by car fairly frequently–he needed a bag to carry all of his baby accoutrements. This was probably my first "less fuss" parenting move.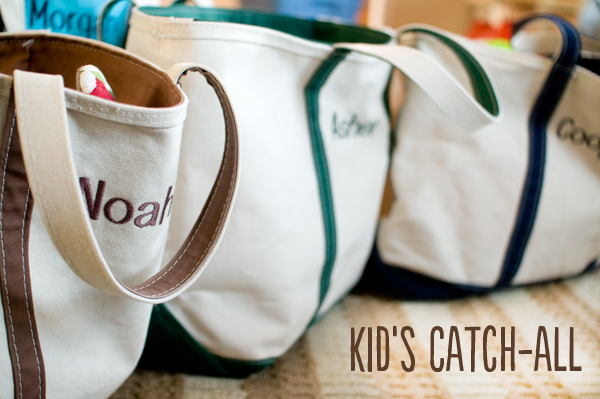 We ended up loving the bag so much that we have made it a Morgan baby tradition that every first Christmas, the newest baby gets a tote with their name on it. We use these bags for ev-erything.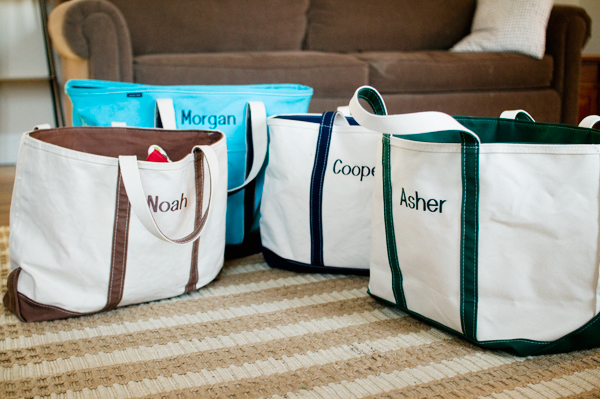 *When packed full, they stack! It makes packing the car a breeze.
*They are big enough for a weeks worth of baby clothes and "stuff"–or a week's worth of boy clothes.
*If you have more than one kid on your travels, you can use one for clothes and one toys/food/whatever.
*Every day, the boys use their bags to gather their toys from downstairs to put away.
*They are great pool bags…hands down the best!
*Each boy takes ownership of their stuff when their name is on the bag. Always a plus!
*We were gifted a huge one that we use for just about everything in the summer time…it is perfect for all-day outings. Word of caution, though. The x-large one gets heavy when packed full.
Now, any tote bag would certainly do. You don't have to get the LL Bean one (I think Land's End has one similar), you could get a much less expensive bag (although, the zip top is kind of a must for me!). There are normally monogramming places in the mall or your local dry cleaner or alterations place normally has recommendations.
check back later today for the winner of the 7 giveaway!