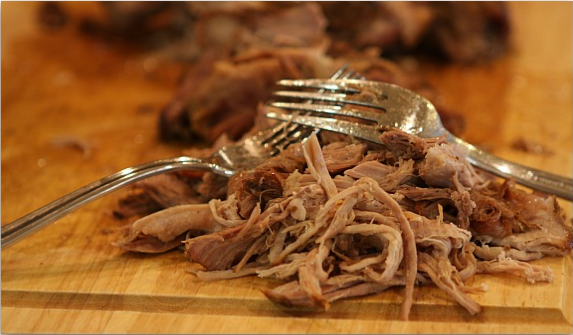 source
My family LOVES pulled pork.  We especially like GT South's (a local BBQ joint in town for like 40 yrs) BBQ sauce.  But, this pork is AH-mazing as BBQ pork sandwiches, in pork tacos, in nachos, or even in soups.  This recipe adds that "smoky" taste that you just can't get from cooking the roast in a slow cooker with BBQ sauce.  The liquid smoke is the key.  When I make this, I will cook up a 4-8lb shoulder roast and divide it up into about 4-6 portions and freeze all but that night's meal.  The frozen portions come out later over the coming weeks and easily become a meal without much planning.  Just keep BBQ sauce and buns or tortillas and cheese on hand.
How I like to cook my pork:
Purchase a 4-8lb pork shoulder roast (don't use a pork loin, it will be too tough)
Preheat oven to 375 degrees.  Put pork in roasting pan cover tightly with foil or very heavy lid.
Pour liquid smoke over the pork roast, sprinkle with about 1.5 teaspoons of salt.
Pour about 1 cup water around the roast.
Cook for approximately 4-5 hours.
After that, I will remove the fatty portions and shred the pork with two forks.  The meat comes apart very easily.  You can either coat with BBQ sauce or season with taco seasoning depending on how you plan to use.  I freeze my pork plain with no sauce or seasoning.  A 3lb roast (about $7) makes approximately 6-8 sandwiches or 3 weeknight meals where the meat is less of the "star".
linking up with Hannah @ Simply Add Coffee for her new linky party with recipes for easy dinners.