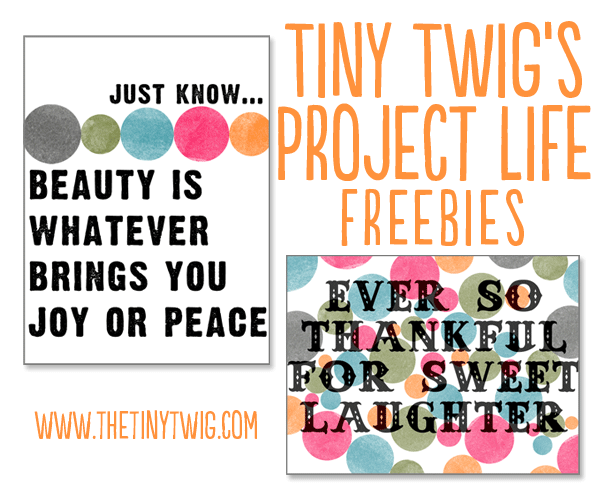 This week (month?!) has been wild.  I didn't get to putting together my spread yet.  Maybe I'll do it this weekend!  Is this how you start the slow slide to having 17.25 years worth of life to scrapbook when your kid graduates high school?  How do you EVER stay up with the never-ending project of memory keeping?  Any grand tips from you scrapbooky/life art/memory keeping experts?
On my mind today is joy and peace…beauty and laughter.  So, the printables are cheerful and encouraging.  Click here to get yours for free!  If you love it or want to remember to download it for a later week, be sure to pin it to Pinterest!
Have you noticed the Instagram feed (my name on there is "thetinytwig", find me!) at the bottom of the Tiny Twig main page?  The 5 most recent captured moments are shown there–so you can get a taste of what my days are like even when I can't get to my Project Life pages.  I'm officially in love with Instagram.  Do you Instagram?  Do you find that it helps with your memory keeping?  Do you love looking back at the random moments in life as much as I do?
If you need to catch up on Tiny Twig's Project Life:  Week 1 Freebie here.  Week 2 Freebie here.