Confetti!!  Noisemakers!!  Champagne!!
Happy (almost) New Year!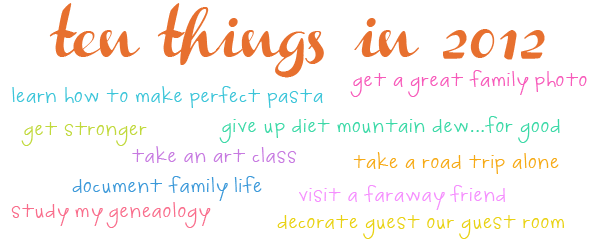 Now, what to do in 2012?  I am not a huge fan of New Years Resolutions.  They make me feel guilty when I inevitably don't make them a sticky part of my New Year.  Therefore, this year I am making a list of things to do in 2012.  Just ten.  Not a huge amount, not super hard things.  This is to enhance my life, give it some spark.  NOT fix my life.
There is one thing that I think will be super hard, and that is giving up Diet Mountain Dew.  Sara Sophia knows my love.  She gets my love.  And look at how serene and cool she looks??  Even she loves Diet Mountain Dew.  But, Husband finds my consumption a bit like an addiction–and has asked that I evaluate Diet Mountain Dew's place in my life.  It's place in my life?  In my right hand.  That is it's place.  ;)  However, there are about 14 Million healthier things to drink.  Mostly anything on Earth, probably.  So, I will work to get off the Juice (did you know concentrated orange juice is the #2 ingredient in Diet Mountain Dew??  Rationalizing??).
The other things are for fun and enrichment.  Will you make a list this year?  Do you already know a few things you want to do in 2012, just to make your life a little richer?
*****and exciting stuff!  The No Brainer Wardrobe eBook is coming out in less than 4 days!!!*****