At Midnight on Black Friday, The Tiny Shop will go live and open its proverbial doors.  On Thanksgiving I'll open the shop so you can "window shop" before the shop actually opens for business at Midnight.
I want to let you know, night after night I've been working like an elf getting these necklaces ready for you.  I am so excited with how they came together.  The product shots are beautiful and the model shots are lovely, too.  I'm just totally jazzed that I am putting out products that I want to put on my Christmas list–I think that's the best endorsement I can give.
I'll even show you the model shots today, as a special treat for all of you working so hard to prepare your Thanksgiving celebrations. I really hope those celebrations go off without a hitch (unless it's one of those hitches you tell stories about for decades!  those are totally worth it!).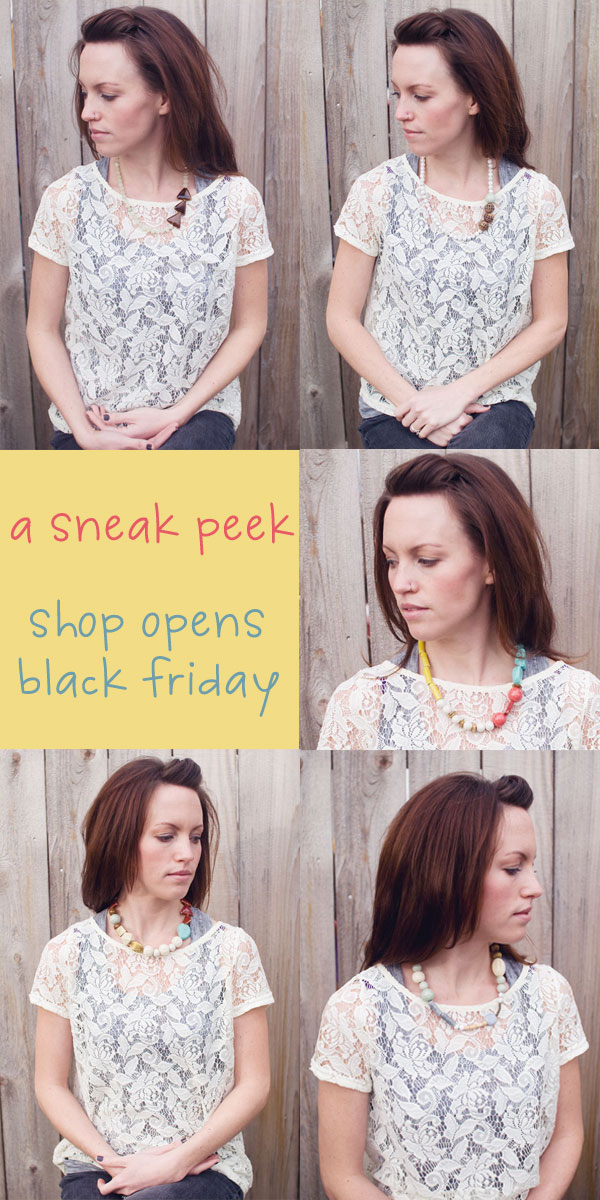 Now, here's the deal for Black Friday–because there is always a deal on Black Friday…right??
For each necklace that is purchased on Black Friday, you will get an extra special gift (maybe a pair of earrings, maybe another necklace, maybe a special fabric banner, etc.).
You will also get a card redeemable for 50% off The No Brainer Wardrobe, my eBook (based on the 31 day series, but completely expanded, amazingly awesome, and covering tons of extra content!) coming out on January 1st.