I'm a piler. The piles are generally organized in my mind. However, that system is useless when it comes to Husband trying to find any of our important papers. It is also pointless when it comes to him wanting to help out with paying bills, filing papers, etc.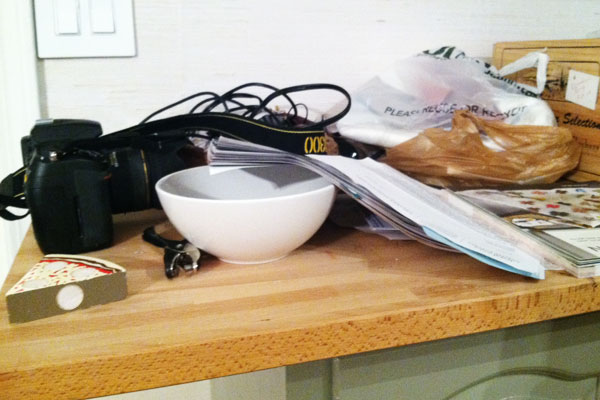 look at that mess of a pile
It goes something like this.
Me: Feeling 8% resentful that I have to deal with all of the paperwork, bills, insurance, etc. for the family.

Husband: Wants to help and offers to pay the bills for the week/month.

Me: Frantically looks at the 18 piles that have accumulated, some mail I've looked at…some I haven't. Some in semi-organized piles…some…not.

Husband: Waits for an answer.

Me: "Nevermind, I'll just do it myself. I always have to do it." (Reality is, I couldn't tell him where to begin because my system was so flawed.)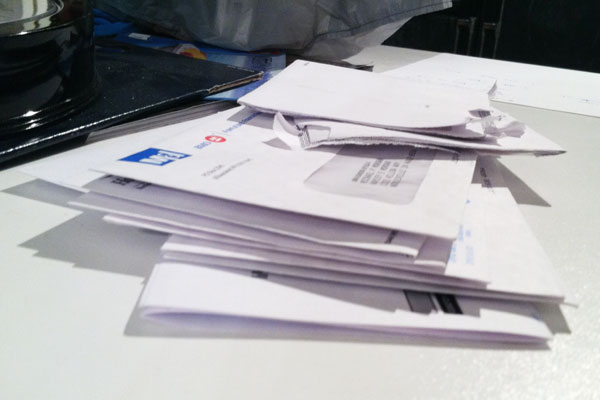 the mail from today
That pile above is the mail from today.  Instead of just moving it from pile to pile until I had a chance to sit down and deal with it, now we have a system.
Here's the first secret: most of our bills come to us via email now.  I set up a special email solely for our bills.  That way those bill emails don't get lost in the midst of blog emails, personal emails, and advertising emails.  That wouldn't help my situation–as my inbox also mirrors the piles in my house.
So, that special bills email account comes to my iPhone, so I am always aware of what bills we need to pay and when.  So, each week I empty out that email inbox on Thursday, making sure that all bills are scheduled.
But, the problem is–most medical bills and other one time bills will still come via the USPS (and I'm grateful for that!  it keeps the Postal Service afloat!).  So, I will pay those bills that came in the mail, then scan them with an iPhone app, email a copy of the scanned .pdf to our bills email address, and then shred the original document.
I title the email (with the .pdf attached) with the name of the bill and the date it came.  With Gmail's easy search and filing capabilities, this makes me quite comfortable that I'll be able to find any pertinent information going forward.
Husband likes that he can access the information at anytime over the Web.  Also, I enjoy more help with the tasky financial "to-dos" because he can find what he is looking for.  It's a win-win, right?