Jill and Laura here from  Office Pretty—a blog about office-appropriate fashion. We are excited that Hayley asked us to chime in as part of her series on 31 Days to a No Brainer Wardrobe. Some of you have requested tips on how to take Hayley's capsule wardrobe from casual to office-ready. So we've pulled together just five pieces the working woman can add to maximize her closet.
It's likely that you're constantly making first impressions during the workday: You may be meeting new colleagues, acting as an extension of your employer's brand to clients, or persuading potential clients to purchase your company's service or product instead of another's. Office Pretty is based on the idea that what you wear to work matters. Clothes are one external way that you communicate to you peers and clients who you are and what you're bringing to the team.
For example, tailored details on clothes that help them lay smoothly on your hips or across your shoulders help you look pulled-together and professional—able to handle whatever challenges may come your way. Extras like collars and cuffs, and finishing pieces like jewelry, reflect the more formal atmosphere and nature of the relationships you have with colleagues and clients.
Here's our list of five must-haves for working women and some ideas for mixing them with Hayley's Essentials, Staples and Finishers. All our finds are under $50 and from stores you can likely visit at your local mall.
Tailored Black Pants
By "tailored" we mean that these pants fit you well. Focus on the fit in two areas: (1) waist and hips (2) length. Your black pants should sit at your waist without squeezing your mid-section or gaping in the back. We recommend taking your basic black heels or flats with you when you shop so you can either buy pants that are the right length or take them to a tailor for a quick hem adjustment.
Try out: Old Navy, women's essentials wide-leg trousers, $27.50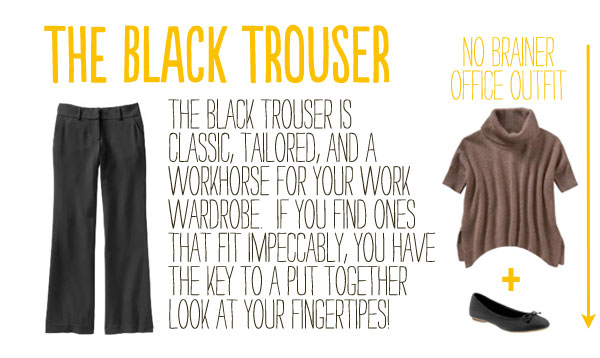 White Oxford
If the t-shirt is the ultimate casual building block, then the classy white oxford is the ultimate office pretty staple item. For busy women we recommend the no iron variety. Sure, they cost $15-20 more up front, but you never have to iron it. Ever. Wear it when you're feeling particularly tired or scatterbrained for instant freshness and professionalism without the fuss.
Try out: Land's End, No Iron Stretch shirt, $49.50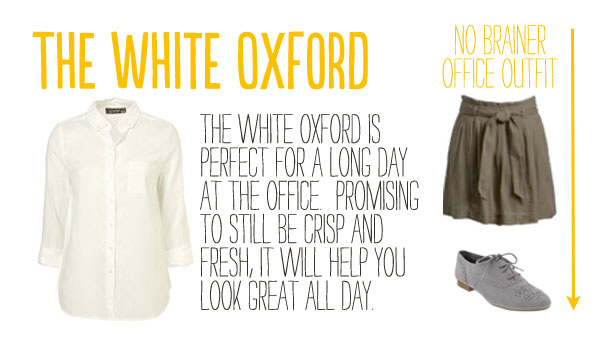 Blazer
This is your secret weapon, ladies. A well-designed blazer can take the most casual of t-shirts to new office-appropriate heights. Since this will likely be the most expensive of the five pieces we've recommended here, try out a grey or tweed fabric so that you can wear it with brown, black or navy classics.
Try out: GAP, twill two-button blazer, $49.95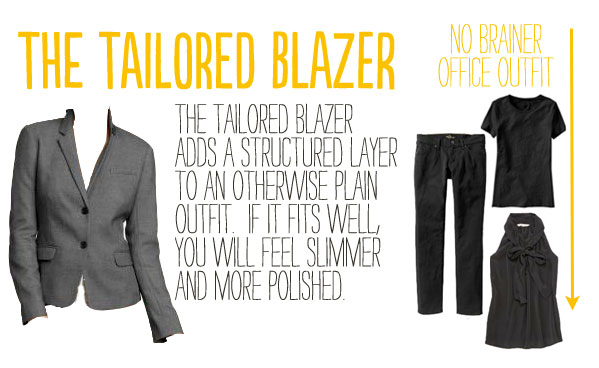 Skinny Belt
So far, our list has consisted of pretty basic pieces: white shirt, black pants, and a neutral blazer. Here is your chance to shine! Since skinny belts are fairly inexpensive as far as accessories go, this is the place to experiment. On-trend this fall are skinny belts in bright colors, animal prints, or textures like suede and patent leather.
Try out: LOFT, Haircalf skinny belt, $29.50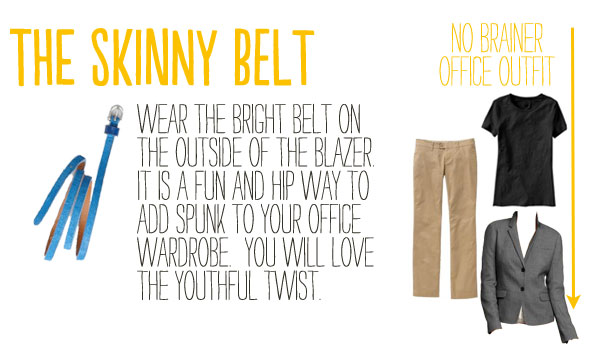 Long Necklace
Taking the time to add a finishing piece before you run out the door to work can make all the difference. We love the long necklace because you can wear it two ways: long and trendy or doubled up and classic.
Try it out: Kohls, LC Lauren Conrad Gold Tone long necklace, $16.80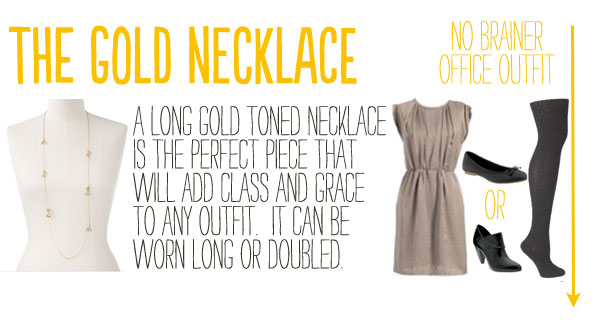 One note: Hayley is an expert budget shopper—and we commend her for that! When it comes to clothes for the office, our advice is to buy the best-fitting staple items you can afford. And then, take it one step further and get your staple items tailored by a pro. A trip to the tailor can make an $80 blazer look like a $450 blazer. For more ideas, check out Office Pretty's complete list of  wardrobe staples.