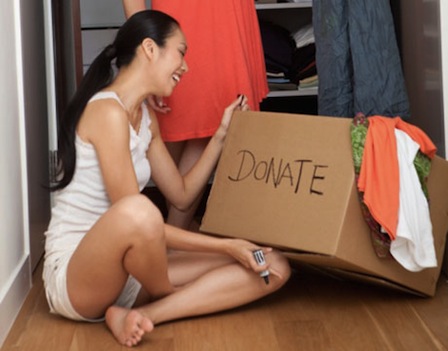 So, ideally you spent some time yesterday going through your closet weeding out the keepers from the duds.  If you are anything like me, you have a pile on your bedroom floor of castoffs–and you're anxious to get them out of sight and out of mind.  Well, luckily there are many charitable organizations ready to take your new or gently used clothing.  Some options are highlighted below.
Dress for Success is looking for new or nearly new and CLEANED professional clothing.  You can visit the site for more parameters.  They help women when interviewing for a job by gifting her with a suit.  If she gets the job, she can return and get a small professional wardrobe to help build her confidence.  I love the idea behind this charity, and I would imagine the demand is very high in the current economy.
The Cinderella Project is an idea that looks to have many independent arms.  The general idea is that donated evening gowns are given to underprivileged high school students so that they may enjoy prom without worry about money.
Goodwill, Salvation Army, and AmVets will all take donations of clothes of any kind.  AmVets will even pick up your donation if you are within their area.
Other Options you may want to consider are local homeless shelters, and crisis pregnancy centers may take gently used maternity clothes.  Some churches operate clothing banks or are in touch with overseas missions that are looking for bulk clothing donations.  One last option is giving certain clothing to daycares or preschools as dress up clothing.  The children enjoy practicing buttoning dress shirts and walking in shoes that are much to big.  :)
One More Idea, if you have friends that are approximately the same size as you it may be a great idea to hold a clothing swap.  I am planning a whole post on clothing swaps, but if you think this is something you'd be interested in, make sure to set aside your most stylish castoffs (things that are still in style and in good condition, but that are no longer a good fit for you for whatever reason).
AND, because I like to be informed and am fascinated by the ways the United States interacts in the global economy.  Here is an article about where donated clothes really end up.
**What did you think about that article?  What do you do with your clothes when you no longer wear them?  Donate them?  Pass them along to friends?  Sell them at a consignment shop or garage sale?  Please share your thoughts in the comments!  I am constantly purging clothes (both mine and the kids') and I often wonder the best way to let go of them.**
Previous posts in 31 Days to a No Brainer Wardrobe: day 1 a manifesto, day 2 the plan, day 3 defining your style, day 4 picking out pieces, day 5 for all women, and day 6 purging your closet.